Many readers have asked me to write an article on Brookfield Property Partners, L.P. (NYSE:BPY) and up until recently, I have not been able to find the time to do my necessary homework and provide a research report. However, a few things have changed so now I can finally deliver on my promise.
Hopefully, (in the next edition of my newsletter) I will be able to make contact with the management team at BPY. Although the company is structured as a Bermuda-based Limited Partnership (or L.P.), there will soon be a REIT underneath the entity referred to as Brookfield Property REIT (proposed: BPR).
This may seem complicated, so I will attempt to dummy this down…
Brookfield Asset Management (NYSE:BAM) is the external manger to BPY (as I said, this is a Bermuda-based L.P.) that was spun out in 2013 as the "everything real estate" holding company for BAM. Essentially, BPY is the flagship holding company for BAM, and in addition to BPY, BAM is the asset manager for three other flagship vehicles (all are Bermuda-based L.P.'s): Brookfield Infrastructure Partners (BIP), Brookfield Renewable Partners (BEP), and Brookfield Business Partners (BBU).
Brookfield Infrastructure Partners is one of the world's largest private sector investors, owners and operators of infrastructure assets globally across utilities, transportation, energy, communications infrastructure and sustainable resources.
The portfolio, grounded in more than 100 years of investment experience, provides diversified exposure to scarce, high-quality businesses with significant barriers to entry. BIP's long-term objective is to generate steady and growing returns to investors. BIP yields 4.85%.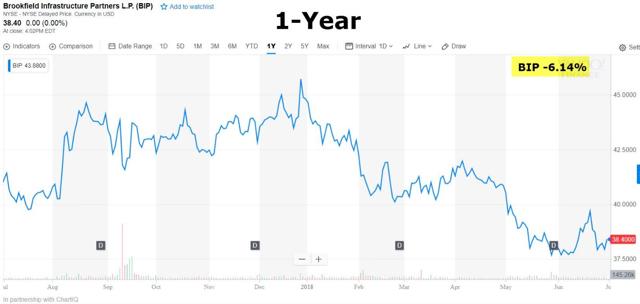 Brookfield Renewable Partners is one of the largest pure-play renewable power investors globally, with an extensive track record in hydroelectric power generation. BEP's assets, located in North and South America and Europe, leverage the company's expertise as owners and operators, as the focus is on generating attractive total returns over the long term.
BEP's business has a number of advantages supporting cash flow growth and capital appreciation, and benefits from technological and geographical diversification. In addition, BPY sells the majority of power under long-term, inflation-linked contracts that allow the company to capture increases in power prices over time. BEP yields 6.52%.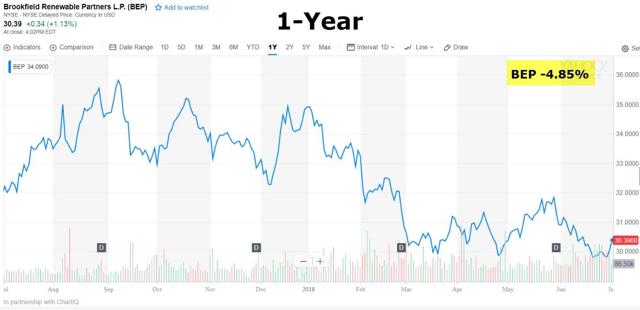 Brookfield Business Partners is a leading private equity business focused on owning and operating high-quality businesses that benefit from barriers to entry and/or low production costs. BBU's objective is long-term growth, which BBU seeks both through acquisitions and organic means.
The company enhances the value of its assets with an operations-oriented approach that focuses on improving profitability, safety, product margins and cash flows. BBU's businesses operate within a number of industries with operations primarily located in North America, Europe, the Middle East, Australia and Brazil. BBY yields .66%.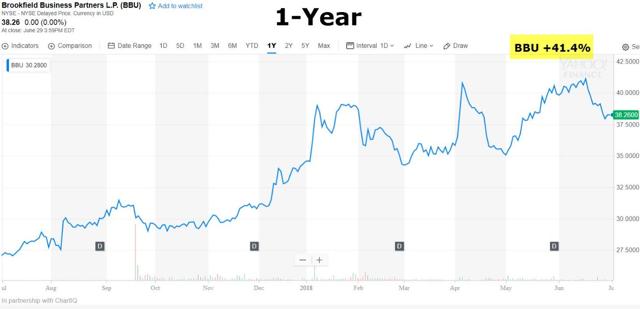 As noted, all four of the BAM-managed entities are Bermuda-based, and while I'm no tax attorney, I suspect that the company has elected to locate its operations in the most tax efficient country. Also, keep in mind that all four of the entities referenced are L.P.'s so they generate K1's instead of 1099's.
However, BAM is taxed as a C-Corp., and this leading alternative asset manager has a massive portfolio under management that spans over 30 countries globally. These businesses are each important components of the backbone of the global economy, supporting the endeavors of individuals, corporations and governments worldwide.
By sourcing capital from investors and shareholders – alongside its own capital – BAM is able to undertake transactions that few others can pursue. In addition, BAM's extensive operating expertise, development capabilities and effective financing experience enables the company to increase the cash flow of the assets within its operating businesses and create incremental value. BAM yields 1.46%.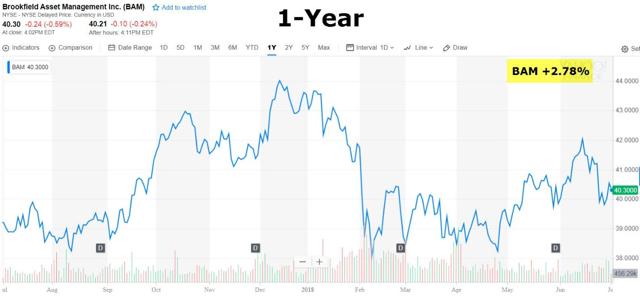 So now you have it, I have provided you with the "dummied down" version of BAM and the four uniquely-positioned publicly-traded L.P/ entities. Now I want to focus on BPY and the proposed new REIT vehicle that will soon be included in my Intelligent REIT Lab.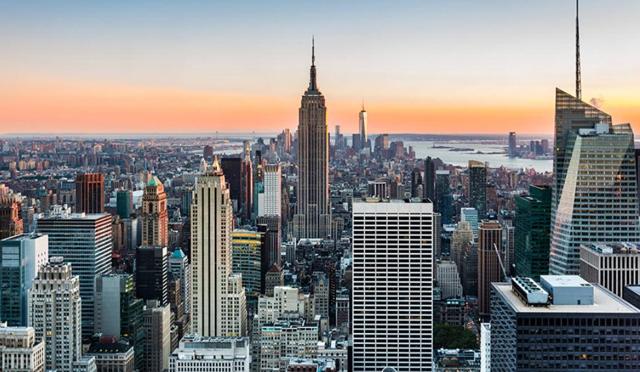 A New REIT To Cover
Brookfield Property Partners (BPY) is a diversified global real estate company that owns, operates and develops one of the largest portfolios of office, retail, multifamily, industrial, hospitality, triple net lease, self-storage, student housing and manufactured housing assets.
Its investment objective is to generate attractive long-term returns on equity of 12%−15% based on stable cash flows, asset appreciation and annual distribution growth of 5%−8%. The company seeks to accomplish this objective by acquiring high quality assets in resilient and dynamic markets and pursuing diversification across both geographic areas and real estate sectors, and continually recycling capital from stabilized assets at or near peak values into higher-yielding strategies.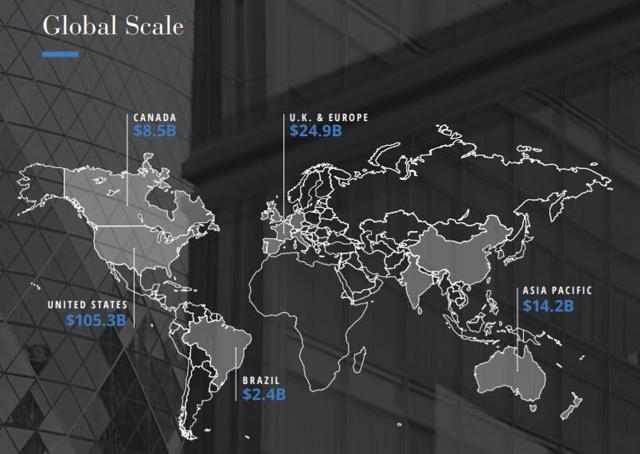 Brookfield Property Partners' portfolio features some of the world's best-known commercial properties, primarily consisting of best-in-class office (147 premier properties -100 million square feet), retail properties in dynamic markets (125 best-in-class malls and urban retail properties -122 million square feet), and opportunistic investments (26,200 multifamily units, 20 hospitality properties, 326 triple-net-lease assets, and 206 self-storage properties).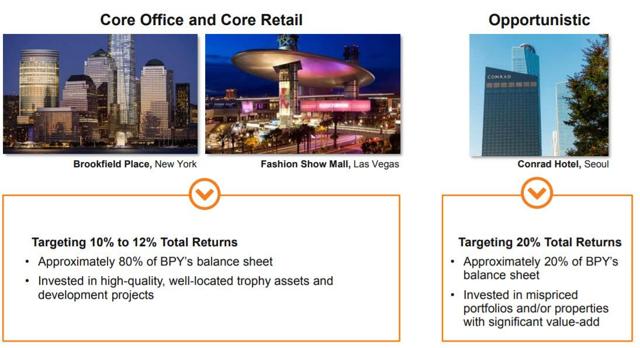 You may recall that I have been covering General Growth Properties (GGP) for quite some time, and it was no surprise when I read that BPY was attempting to acquire the Chicago-based Mall REIT for $9.25 billion in cash. BPY already controlled a one-third stake in GGP, and to sweeten the pot, BPY offered the combination of cash, BPY units or a share of the new publicly-traded REIT, Brookfield Property Partners (proposed BPR).
The cash portion is fully funded with a committed acquisition facility and ~$4B of equity from strategic and noteworthy joint venture partners. The financing will be repaid through additional asset sales and asset-level financings over time. This will result in an aggregate cash/equity consideration ratio of approximately 60%/40%.
Why The REIT Structure?
As mentioned above, BPY is a Bermuda-based L.P. that generates K1's as opposed to 1099's, so certain investors are unable to own shares because the structure is not as tax-friendly. Secondly. L.P.'s (like BPY) cannot be listed in the RMZ or NAREIT Indexes, so it was necessary for BAM to structure the GGP deal specifically to fit into the REIT mold. BPR will be a publicly-traded RIT externally-managed by BAM. At time of the GGP acquisition, GGP shareholders can elect to receive cash, one BPY unit or one Class A share of BPR.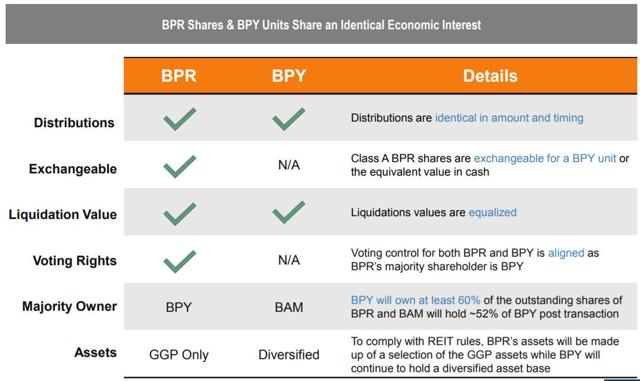 So BPY is essentially a tax flow entity with a new REIT underneath, and because BPY was an L.P., U.S. REIT investors were not able to gain access to shares in GGP. As illustrated below, that's no longer a problem and investors will soon be able to own shares, with a significantly higher yield than the current GGP yield.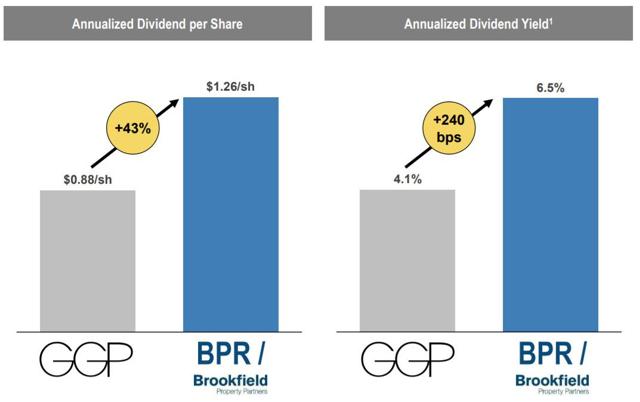 It appears that the payout ratio has sufficient cushion to protect distribution levels and to fund growth (20% of CFFO will be retained). Also, although I am not a fan of external management, I'm happy to see the strong insider ownership by BAM, that should remain around 55% once the GGP deal closes. The deal will also provide BPY/BPR with considerable "scale advantages" as illustrated below: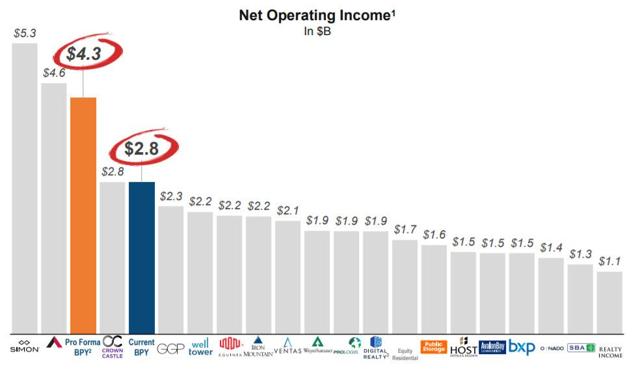 How To Play It?
As noted above, BPY is an L.P., so I have not taken much time to research the company, until now. BPY shares are down approximately 20% year-to-date and shares are yielding 6.42%.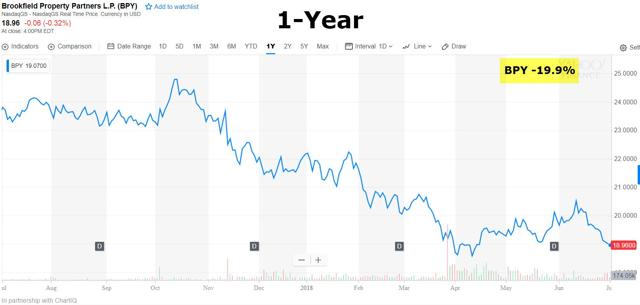 Given the price decline, BPY appears to be an attractive deal, especially considering the investment thesis: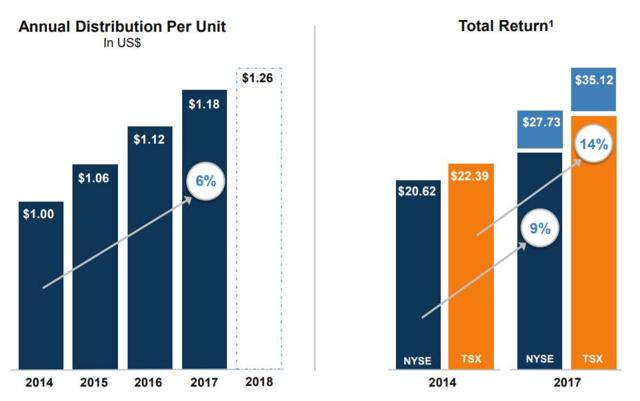 The GGP deal will create larger public float for BPY and the transaction is immediately FFO/share accretive. The transaction provides direct access to enhance GGP's irreplaceable class A retail portfolio, and with a REIT vehicle it's certain to offer a simplified ownership structure (1099's). Here's how BPY has performed in relation to Simon Property Group (SPG) over the last 12 months: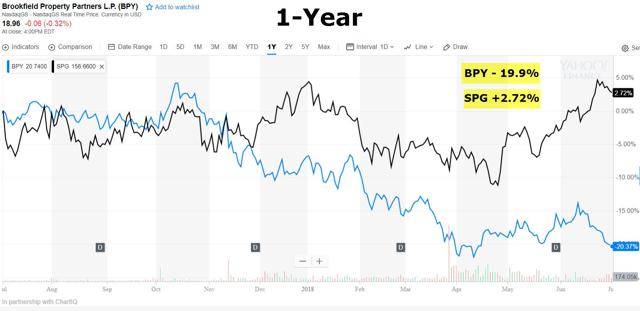 It appears that the new REIT, Brookfield Property REIT, could become an interesting play, and I'm glad that BPY recognizes the difficulty of owning shares in a Bermuda L.P. BPR could become a cutting edge move for Brookfield to capitalize on the dedicated REIT investor base and I can foresee the potential for BPR to further consolidate BPY trophies, including the Rouse Mall portfolio.
Finally, last week I toured Related Companies' newest showcase project at Hudson Yards in New York City. I am putting together an article on the massive development now, and I am pleased that I am now an owner in Hudson Yards, via BPY. When I travel to New York City, I frequently stay in my friend's apartment (developed by Related) and as I view out the window, I can now tell my friends, "I own a piece of Hudson Yards" (I know I will get a 1099, at least for now).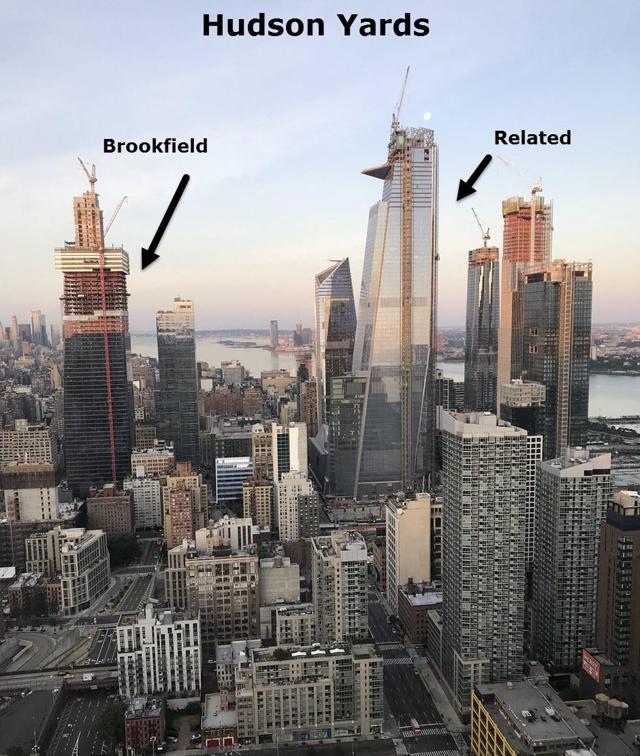 Photo: Brad Thomas
Manhattan West is in the heart of Manhattan's newest neighborhood on the west side. At over 7 million square feet, Manhattan West will be a thriving community made up of state-of-the-art custom designed office spaces, curated food, retail, pop-up experiences, abundant green space, homes and a boutique hotel. Created by Brookfield, Manhattan West is a place of potential with space to think and room to grow.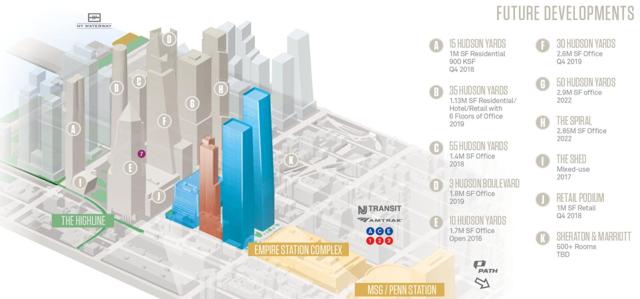 All Strong Buy picks can be viewed in my Marketplace service (The Intelligent REIT Investor). We recently announced our first subscriber-only call with Brad Thomas. Join Brad every Friday at 2:00 PM ET. Subscribe NOW.
Note: Brad Thomas is a Wall Street writer, and that means he is not always right with his predictions or recommendations. That also applies to his grammar. Please excuse any typos, and be assured that he will do his best to correct any errors, if they are overlooked.
Finally, this article is free, and the sole purpose for writing it is to assist with research, while also providing a forum for second-level thinking. If you have not followed him, please take five seconds and click his name above (top of the page).
Sources: BPY Website and Investor Presentation
Disclosure: I am/we are long ACC, AVB, BHR, BPY, BRX, BXMT, CCI, CHCT, CIO, CLDT, CONE, CORR, CTRE, CUBE, DEA, DLR, DOC, EPR, EXR, FRT, GEO, GMRE, GPT, HASI, HT, HTA, INN, IRET, IRM, JCAP, KIM, KRG, LADR, LAND, LMRK, LTC, MNR, NNN, NXRT, O, OFC, OHI, OUT, PEB, PEI, PK, PSB, PTTTS, QTS, REG, RHP, ROIC, SBRA, SKT, SPG, STAG, STOR, TCO, TRTX, UBA, UMH, UNIT, VER, VNO, VNQ, VTR, WPC.
I wrote this article myself, and it expresses my own opinions. I am not receiving compensation for it (other than from Seeking Alpha). I have no business relationship with any company whose stock is mentioned in this article.
Related Posts: