Co-produced with Julian Lin of High Dividend Opportunities.
Templeton Dragon Fund (TDF) is a closed-end fund from Franklin Templeton Investments which seeks to invest in attractively valued equities in "Greater China" stocks, which in addition to China also includes Hong Kong and Taiwan. TDF issues 1099 tax forms (no K1s). TDF is run by a management team which has proven itself to be extremely aligned with shareholders. Furthermore, we are not the only ones who believe China is cheap as Bill Gates recently disclosed a 5% position in TDF. TDF is a strong buy and offers a high yield way to play the recovery in the Chinese stock market.
Why China, And Why Now
Investors have a history of overreacting and allowing emotions to influence their investment decisions. This sometimes manifests in "over-bought" fervor, as seen in the historic stock run of the 2000s dot-com bubble: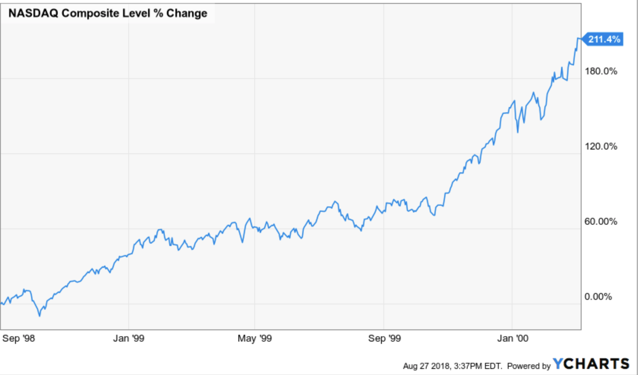 This also is seen when "over-sold" pessimism leads to seemingly-uncontrolled selloffs, as seen in the gruesome aftermath of the "popping" of the aforementioned dot-com bubble: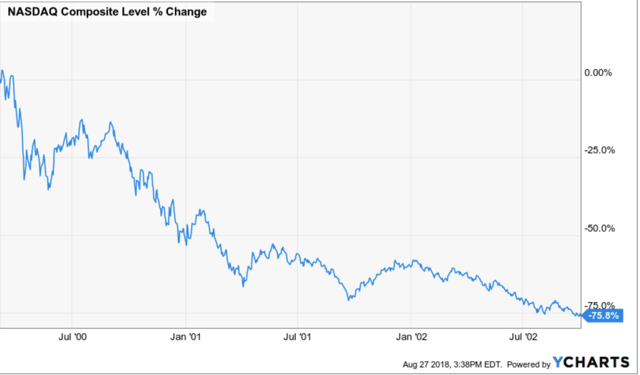 When the dust settles, investors have a choice to make. Do they continue to sell in fear or do they take a courageous stand and buy what they know to be cheap? Warren Buffett has a famous quote which applies well in this context, "be fearful when others are greedy and greedy when others are fearful."
There's great reward for bravery – investors who have the courage to buy would be acquiring stocks at extremely opportunistic valuations.
We believe we have found such a similar opportunity right in front of us: That opportunity is China.
The ongoing trade war conflict between the U.S. and China has sent Chinese equities in a free fall: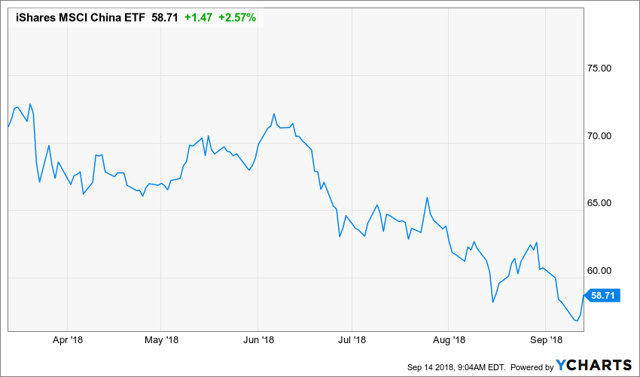 Yes, the trade war will negatively impact many Chinese markets and has significantly raised uncertainty moving forward. But with prices this low, is the selloff overdone? We have the opinion that contrarian value investors must buy, not sell, when there's blood on the streets, and in China, the streets are bleeding red.
Opportunistic Valuations
At our marketplace service High Dividend Opportunities, we have been recommending to overweight U.S. equities since January 2018 and underweight European and Asian equities for many reasons which include:
A healthy and growing GDP growth rates, at a time when many emerging economies are seeing decelerating growth.
Low tax rates and a friendly tax environment.
Relatively higher population growth rates than most large economies.
A safe-haven status – as compared to Europe and the Far East.
Finally, the U.S. is a service-oriented economy and is much less prone to political uncertainties on the other side of the globe, such as the turmoil in Turkey today.
For the time being, the U.S. regained its crown as the most favored region for stocks for the first time in five years, according to fund managers surveyed by Bank of America Merrill Lynch. In fact, it was reported that fund managers have recently pushed their allocation to U.S. stocks to near all-time highs.
This has proven to be a profitable call as during the past three months the S&P 500 index has returned 3.6% compared to a negative return of 7.3% for emerging market stocks, and a negative return of 11.4% for European stocks.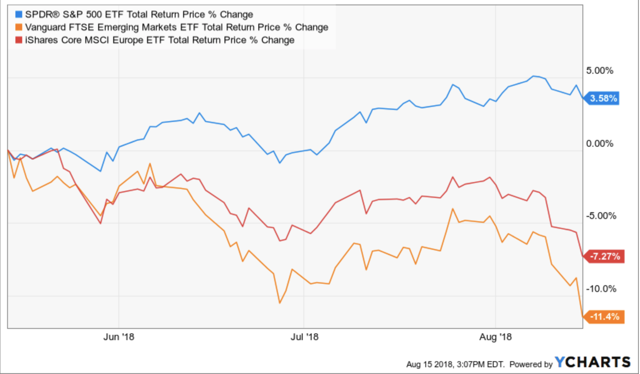 However, the recent underperformance in emerging markets and China especially has however led us to change our views as China has become too cheap to ignore.
The price to earnings multiple (P/E) of Chinese equities, as reported by TDF, was just under 14 for the trailing 12 months. That represents a huge 44% discount to the 25 times trailing earnings seen in the S&P 500. We should note that the S&P 500 has not itself seen such a low multiple since the 2012 correction – it has more than doubled since then. As we will argue next, this valuation is just "dirt cheap" for one of the strongest economies in the world.
The Market Is Too Pessimistic On China's Outlook
The trade war has seen significant tariff escalations on both sides. The U.S. has imposed $34 billion in tariffs on mainly agricultural products, upon which China has retaliated with its own $34 billion in tariffs on things like soy beans, beef, whiskey, and off-road vehicles – both took effect on July 6th. On July 10th, President Trump released a list identifying a further $200 billion in potential tariffs, upon which China has indicated it would "introduce counter measures to defend the country's dignity." Every market selloff begins with a reason and it appears that investors are concerned that the back and forth will lead to long-term negative consequences for China's economy.
We believe however that investors have become overly pessimistic. China has seen very strong growth rates to GDP in the past decade as it has sought to transform itself into a global superpower: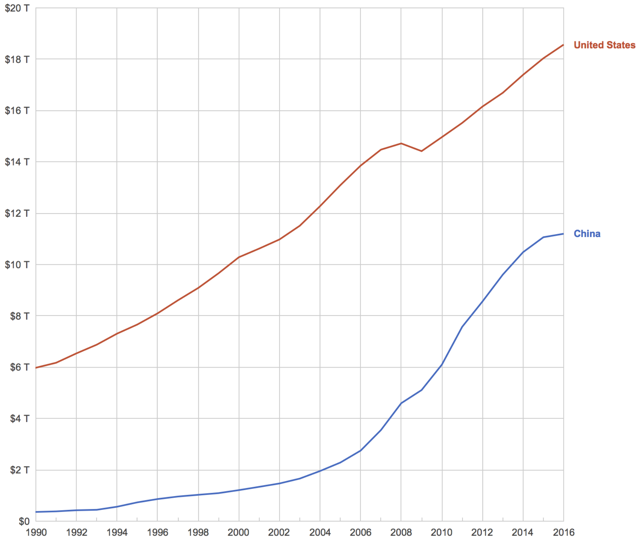 With its population at a staggering 1.4 billion, China also presents a very compelling consumer base which naturally draws strong demand from retailers seeking to tap such a large market.
Possible Catalyst for Chinese Equities to Strongly Outperform
There's reason to believe that the trade war should be ending sooner than later. On August 27th, the U.S. and Mexico reached an agreement to overhaul the North American Free Trade Agreement (NAFTA). The new deal would rewrite parts of NAFTA in a three-country trade deal that includes Canada. We expect that Canada also will sign on the agreement and this will remove a lot of economic and political uncertainties that the recent trade war escalations have brought. This news is significant because it's a good indication that President Trump's trade war escalations have been more of a negotiating tool rather than protectionist behavior that many have accused him of. In fact, this strategy has proven to be successful so far. This also opens the door for the possibility that a trade deal could be struck with China soon, which also will be bullish for global and Chinese equities.
Furthermore, President Trump is set to meet his Chinese counterpart President Xi Jinping in a G-20 summit in Argentina, which begins on November 30. This raises hopes that the two countries might find a solution to end the dispute. We should note that the two have not met since late 2017. There is a good chance that some sort of agreement, or de-escalation of tensions could occur, and this could result in higher equity prices for emerging markets.
While we have no crystal ball, we can conclude from the trade war thus far that no one seems to be really benefiting as any new tariffs imposed from the U.S. are just met with an equal amount of tariffs from China. We believe that the political drama will eventually end, perhaps soon, and that Wall Street will then give appreciation to the Chinese economy which is clearly firing on all cylinders.
Getting To Know The Fund
TDF aims to invest at least 45% of assets in Chinese stocks – and most recently had more than 77% of assets invested in China with the rest divided mainly between Hong Kong and Taiwan: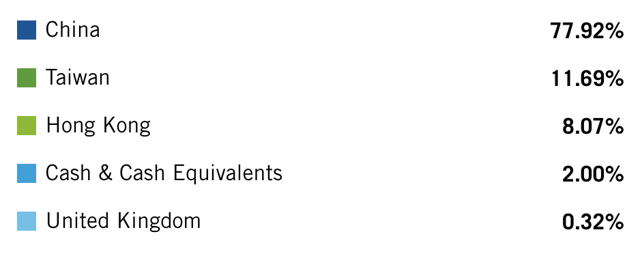 TDF is very diversified among industries, and is particularly overweight financials, technology, and semi-conductor stocks: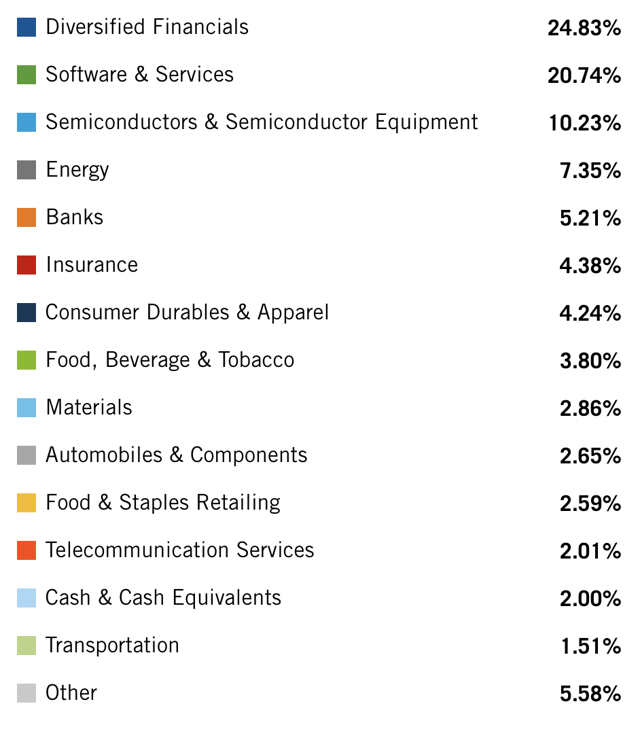 Readers should note that TDF does not currently utilize any leverage. This makes their performance (as we will see in a moment) particularly impressive. The top 10 holdings of TDF are seen below: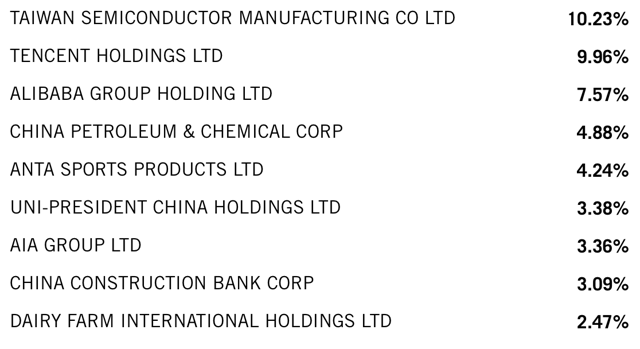 Fee Structure
TDF has a very reasonable 1.35% expense ratio which is on the low side among CEFs. The fee rate is dependent based on net assets and decreases as net assets increase, as seen below:

Performance History
TDF has performed very well both in its own right and as compared to its index, the MSCI Golden Dragon Index. As we can see below, TDF has outperformed both in the near term (one year by NAV and three year by share price) and long term (10 year by both NAV and share price):

China Is Rising: The Top Holdings
While the steep undervaluation of China is reason enough to get one excited on shares, it was a close look at the top holdings that really opened our eyes to the high level of innovation taking place in Greater China. In particular, the three largest positions in TDF are most important to discuss as they comprised a nearly 30% combined allocation as of last month.
Tencent (OTCPK:TCEHY) was TDF's largest holding before its underperformance this year. TCEHY is most well known as the "Facebook (FB) of China." This is because they own the social network app WeChat which has more than 1 billion users which as of 2016 used the app on average 66 minutes per day.

With about $4 billion in social networking advertising revenues in 2017, WeChat clearly has a long growth runway ahead of it, as Facebook reported nearly $40 billion in advertising revenues in 2017.
But that's not all – while investors wait for TCEHY to continue monetizing WeChat, they also are investing in a company which has established itself as arguably the No. 1 video game company in the world. TCEHY owns many of the most well-known games globally, including League Of Legends: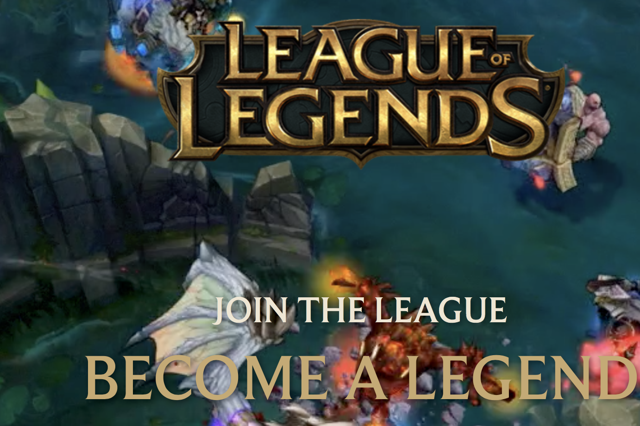 They own a 48% stake of Epic Games, the creator of the smash hit Fortnite which is considered one of the most popular games of all time with more than 125 million players. TCEHY also owns stakes in the developer of PlayerUnknown's Battlegrounds (PUBG) and Activision Blizzard (ATVI), meaning that they have their hands in all of the top four PC games in North America and Europe: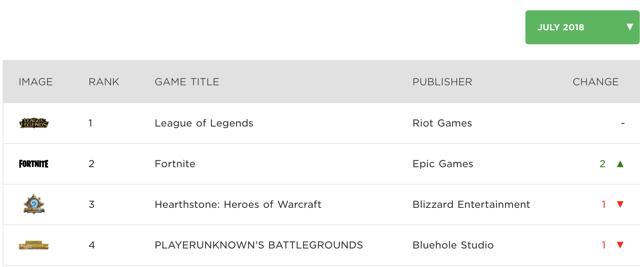 (NewZoo)
In spite of proving itself to be one of the greatest growth stories coming out of China, TCEHY trades at only 40 times trailing earnings. TCEHY is likely to have a significant multiple re-rating upwards as investors once again warm up to the name.

(TSMC 2017 10-K)
Taiwan Semiconductor (TSM) is currently the fund's largest position. TSMC is the world's largest semiconductor foundry and is headquartered in Taiwan. In short, TSMC manufactures semiconductor products for its customers, who then sell those products. TSMC held the leading market share in 2017 in the foundry segment of the global semiconductor industry, with an estimated market share of 56%. TSMC has customers all over globally, and prides itself in never selling its own semiconductor product, meaning that it never competes with its customers. This has allowed them, in their own words, to be "everybody's foundry." As the industry leader and innovator, TSMC is well positioned to take advantage of the tailwinds from "increasing semiconductor content in electronic devices, continuing market share gains by fabless companies, gradual increases in IDM outsourcing, and expanding in-house application- specific integrated circuits (OTC:ASIC) from systems companies. (2017 TSMC 10-K). Furthermore, with the "internet of things" ('IoT') technologies being included in more and more applications including smart watches, smart light bulbs, and self-driving cars, the market for semiconductors should continue to grow for the long future, and TSMC finds itself as a primary beneficiary of such a movement.
Alibaba (BABA), the fund's third largest holding, is perhaps the most well known Chinese stock to American investors. BABA is known as the "Amazon (AMZN) of China" because of its e-commerce platforms, known as Taobao and Tmall.

BABA has executed perfectly in capturing the e-commerce market as according to recent studies their platforms already account for 58% of all e-commerce transactions in China as of 2018. Basically, if companies want to sell to the Chinese consumer, then they pretty much have to go through BABA.
In addition to their e-commerce business, BABA also has a strong cloud computing business, payment processing business through their 33% stake of Ant Financial and social networking exposure through their 31% stake in Sina Weibo (WB), known as the "Twitter (TWTR) of China." As a result of their strong execution, BABA has in turn seen very strong revenue growth: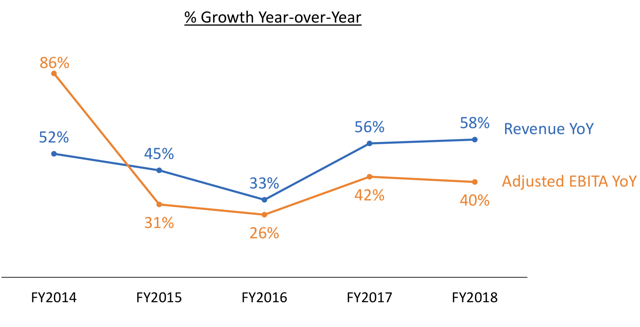 (March Quarter 2018 Presentation)
Readers may find it interesting to know about BABA's push into the grocery business through its stores "Hema grocery."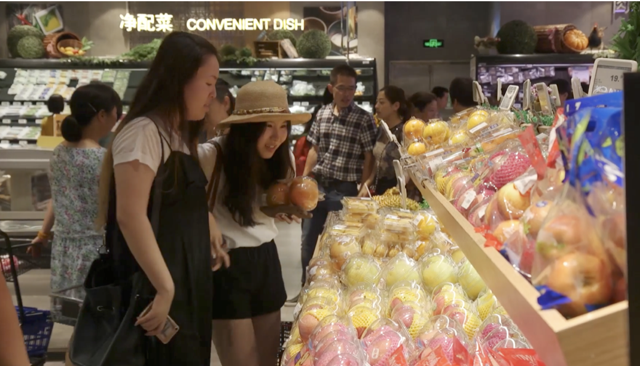 These stores aim to revolutionize the grocery shopping experience by reducing the need for customers to wait in lines. If you forget your smartphone, then no worries! Their stores are able to use facial recognition (link includes a video) to identify the customer and complete checkout. We really do recommend watching the video linked above. AMZN does have one store with a similar concept, but get this – BABA already has more than 20 such stores in China and aims to continue rolling out this concept aggressively. Interested readers can see more by viewing this video.
BABA trades at only 56 times trailing earnings which compares very favorably with AMZN, which trades at over 150 times earnings yet does not have as many of the additional business segments that BABA does.
Quick take: By taking a look at some of the growth companies in China and their potential, it's clear that many Chinese equities have been unfairly punished in spite of arguably being just as exciting as their U.S. counterparts. Many of these companies are comparably in the earlier stages of their growth trajectories yet do not trade at the same multiples that their U.S. counterparts did back then. Consequently, we see tremendous opportunity here for multiples to be revalued upwards.
Dividend History
Based on recent prices, TDF trades at a 8.4% yield based on its recently announced 2018 payout of $1.6114. TDF pays its distributions based on the dividends received from the underlying holdings and realized capital gains: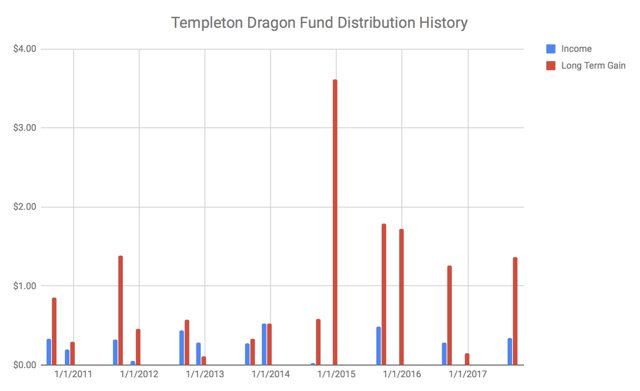 (Chart by Authors, data from CEFConnect)
These distributions are usually paid once or twice annually (in September, December, or in both). As seen above, these distributions can widely vary from year to year, and therefore cannot be relied upon as a stable source of income. Because the performance of Chinese equities has been flat in the past 12 months, this year's yield is slightly lower than last year's payout of $1.7105. The main attraction in buying into TDF is the future performance which should result in solid capital gains and a higher distribution in the year 2019.
Valuation
Most CEFs, especially equity CEFs, tend to trade at discounts to NAV. TDF is no exception as it has historically traded at double-digit discounts: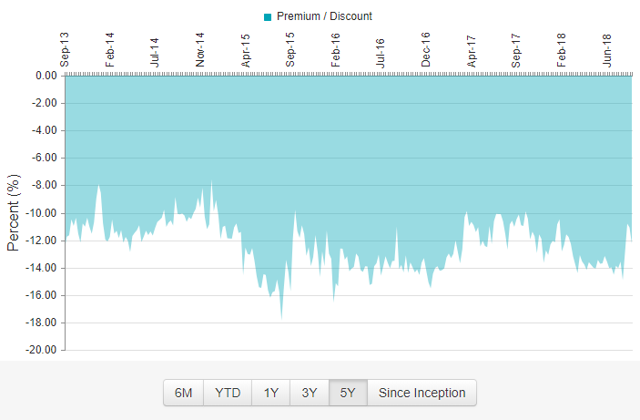 (CEFConnect)
The discount has narrowed slightly very recently from around 14% to 11%, probably due to the announcement of Bill Gates investing in the fund, as discussed below: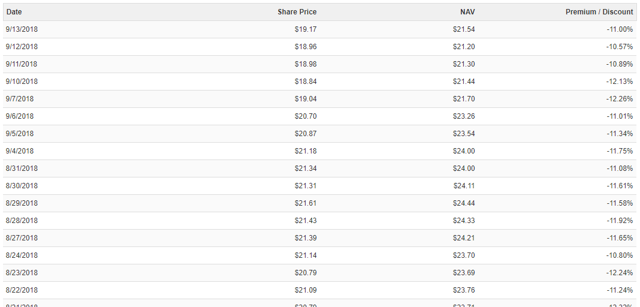 (CEFConnect)
The one-year Z-score is still at 0.4, suggesting that TDF trades 0.4 standard deviations higher than its historical NAV discount for the past 12 months. Still, the 11% discount to NAV is very deep which is entirely undeserved. Unlike other CEF management teams, TDF is actually run by one which actively takes advantage of the discount.
Unusually Aligned Management Team
When we look for strong management teams in our CEFs, the main important factor aside from strong performance, which we have already seen above, is their alignment with shareholders. Because CEF managers are typically paid based on a percentage of net assets, this means that management teams often are in no hurry to close any discount to NAV through share repurchases, because doing so may cause net assets to decrease, in turn potentially decreasing their associated salaries. This is not the case with the management team at TDF. TDF has an outstanding share repurchase authorization in place of up to 10% of shares outstanding, which is in addition to an initial 10% previously authorized. TDF has not been shy about making use of this program, recently retiring 209,534 shares in 2017, 435,156 shares in 2016, and 116,708 already this year. At the same time, they did not issue any shares in these two years as all shares issued from dividend reinvestment programs were accounted for in their repurchase program. Considering that there were 34.2 million shares outstanding as of the end of 2017, these are clearly very large share repurchase amounts. What's more, since the inception of their share repurchase program, TDF has repurchased an astounding 8.9 million shares. TDF easily has one of the most aligned CEF management teams we have ever seen and we expect them to continue repurchasing shares moving forward.
Bill Gates Is Buying, Are You?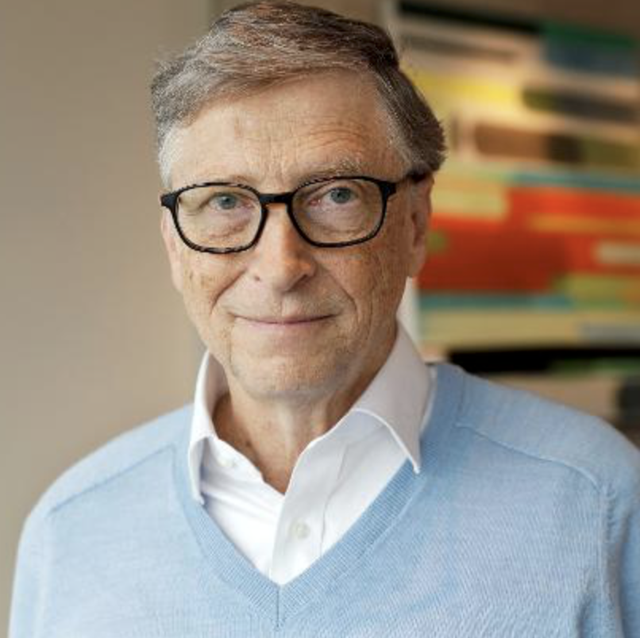 (Bill Gates, co-founder of Microsoft)
We are not the only ones who believe that China is getting cheap. As of August 8, 2018, the Bill and Melinda Gates Foundation Trust owned 1,697,739 shares, or 5% of the shares outstanding of TDF, making the trust the fourth-largest shareholder according to S&P Capital IQ. Microsoft (MSFT) co-founder Bill Gates and his spouse Melinda French Gates are co-trustees of the trust. Readers are probably well aware of Gates' legendary investment track record and we believe that it's no surprise that they have chosen TDF with its large exposure to Chinese equities and extremely shareholder-friendly management.
Risks
As we discussed earlier, there's great uncertainty moving forward as to how the trade war will progress. There's still possibility of further downside if trade negotiations between the U.S. and China are unable to find common footing. However, the already depressed valuations suggest that there's little further downside as expectations have effectively been "reset."
As with all equity CEFs, TDF is especially exposed in the event that the Chinese economy experiences a slowdown or recession. This however does not appear likely as the economy continues to grow at torrid rates – and besides, equity valuations are effectively priced as if such a meltdown already has occurred. Such is the beauty of targeting deeply discounted securities.
The recently announced distribution may lead to short-term volatility from investors focused on the dividend income. We however believe that investors with a longer term mindset may be rewarded with an outsized distribution in 2019 if Chinese equities are able to recover.
Bottom Line
TDF is an attractive way to invest alongside shareholder friendly management while waiting for the Chinese economy to rebound. TDF trades at a double-digit discount to NAV, which we expect management to continue to take advantage of with share repurchases. China itself is trading at a material discount to the U.S. stock market, in spite of an economy continuing to grow GDP at impressive rates and having companies continuing to push the limits of innovation. TDF is a strong buy for the next two years as we anticipate investor sentiment to improve, leading to a higher dividend payout in 2019 and capital gains.
A note about diversification
To achieve an overall yield of +9% and optimal level of diversification, at High Dividend Opportunities, we recommend a maximum allocation of 2-3% of the portfolio to individual high-yield stocks, and a maximum of 5% allocation to high-yield exchange traded products (such as ETF, ETNs and CEFs) such as TDF. For investors who depend on the income, diversification usually results in more stable dividends, mitigates downside risk, and reduces the overall volatility of their portfolio.
If you enjoyed this article and wish to receive updates on our latest research, click "Follow" next to my name at the top of this article.
Source note: All tables and images from Templeton Dragon Fund's website, unless otherwise stated.
About "High Dividend Opportunities"
High Dividend Opportunities is a leading and comprehensive dividend service ranked #1 on Seeking Alpha, dedicated to high-yield securities trading at attractive valuations targeting a yield of 9-10%. Subscribers get access to:
Our managed portfolio of 40 securities currently yielding 9.7%.

A free "dividend tracker" to know exactly when to expect to receive the next dividend.

A free "portfolio tracker" (watch video by clicking here).

"Live Alerts" to buy securities at attractive prices.
We invite income seekers for a 2-week free trial to help you identify the future out-performers in the high yield space. For more info, click here.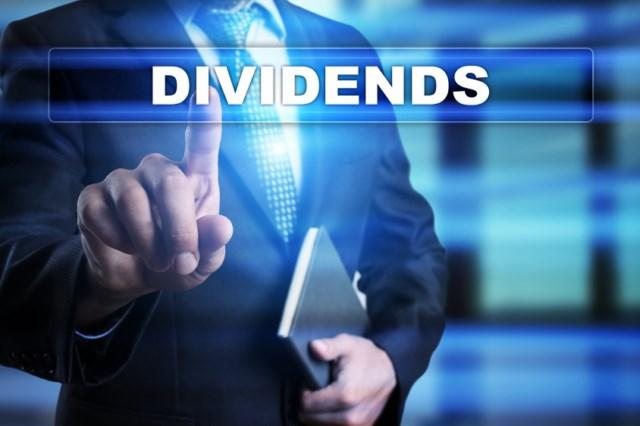 Disclosure: I am/we are long TDF.
I wrote this article myself, and it expresses my own opinions. I am not receiving compensation for it (other than from Seeking Alpha). I have no business relationship with any company whose stock is mentioned in this article.
Editor's Note: This article covers one or more stocks trading at less than $1 per share and/or with less than a $100 million market cap. Please be aware of the risks associated with these stocks.
Related Posts: