General Electric (NYSE:GE) has been the dog of the Dow for 2017; any long-term investor or fund manager holding the stock has taken a good old-fashioned whipping out at the woodshed. In a year that has seen 74 record-high closes for the Dow, GE has been on a long, painful trip to purgatory. The share price is down 36% for the year.
GE recently reported 3Q results that were a disaster in the energy division with sales down double digits. The company reported earnings of $0.29 per share on revenue of $33.5 billion, a beat of $1.6B. The consensus earnings estimate was $0.49 per share on revenue of $31.9 billion. The Earnings Whisper number was $0.52 per share, reflecting a huge miss. Revenue grew 14.4% on a year-over-year basis.
The company said in its supplemental earnings report it now expects 2017 earnings of $1.05 to $1.10 per share. The company's previous guidance was and the current consensus earnings estimate is $1.53 per share for the year ending December 31, 2017.
Kitchen Sink Earnings?
Many pundits have come on various finance shows stating that GE kitchen-sinked earnings to give the new CEO, John Flannery, some room to operate and implement his vision for the company.
I feel like the jury is still out on that. Next week all investors interested in GE will gain some insight into the company's path going forward.
It makes no sense to me to dismantle the company, and I do not think that is the plan. Flannery has signaled to the market that he is looking to shed $20B of assets over the next 24 months. I believe that can be done without gutting the company, and I hope he can convince the markets as I am long the stock.
Double Whammy with Baker Hughes' Weak Results
To exasperate GE's issues, its new merger with Baker Hughes is not paying off at the present. Baker Hughes, a GE Co. (NYSE:BHGE) reported third-quarter September 2017 earnings of $0.05 per share on revenue of $5.4 billion.
The consensus earnings estimate was $0.12 per share on revenue of $5.5 billion. A big miss on the bottom line and a slight miss on revenue was not a good signal to the market. Interested parties can click here to view the Whisper numbers.
Negative sentiment is reaching a fevered pitch with one analyst after another calling for GE's demise and a drop to the mid teens. Next week could signal a turning point with wild swings possible as investors digest the new information.
Behavioral Finance
Most all stocks that are in a multi-year capitulation share some of the same tendencies:
1. Multiple analysts and news stories predicting the doom of the stock with ultra low price targets.
2. Large percentage price swings even in large cap stocks.
3. Debt structure fears of BK.
4. Respected analysts cutting price targets after multi-year lows.
5. Hopes of a recovery years away.
These are a few conditions I look for when buying capitulation fear trade stocks.
Stuart Varney's show on Fox Business which I watch every morning has been asking multiple people for weeks about GE and if it is a buy; time and time again the analysts are not interested and say no.
I find it fascinating how when a stock is plumbing new lows fundamentals suddenly mean everything. Anyone that trades knows fundamentals have very little to do with where a stock trades. If you don't believe that, just look at a company like Autodesk (NASDAQ:ADSK) that has rallied nearly 200% after multiple quarters of substantial losses over the last 18 months.
Nothing needs to make sense in the markets; it is about surviving the trade.
Buying the Dow's biggest loser at a multi-year low is not an easy thing to do. One of the things I consider is what the deep pockets are doing, the billionaires of the world. Is Warren Buffett taking a bite at this price? When no one is interested and sentiment is really ugly, I start buying.
Capitulation?
Look at this three-year chart: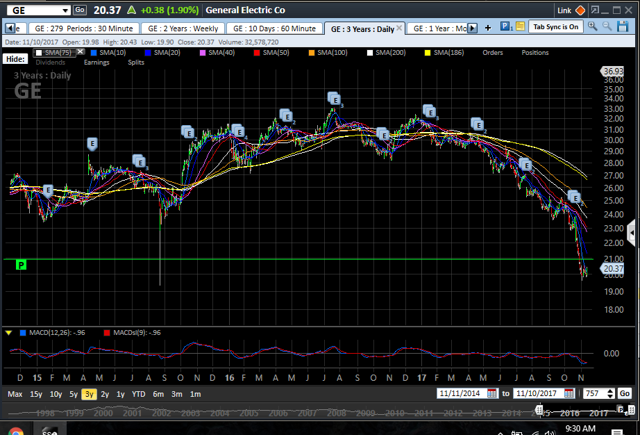 How does one keep their confidence in a stock that is wiping out? Fear takes over and weak investors get margined out of a stock or throw in the towel. The bottoming process is painful, it can take months or years and it can take you out of the game right when you would rather be buying. I believe this is the situation investors are faced with this moment.
Finding the bottom is a process that one must endure if you're going to play the contrarian. One must have patience and not be afraid to trade around a position. As I write this, GE is making a mini run back to the $20.40 level; is this a head fake to the upside or the beginning of a long-term rally with the bottom in?
The simple answer is I don't KNOW. I would like it to be the bottom but who cares what I think. It has been my belief that the stock would bottom before the investor meeting next week, but time will tell this story.
Expect Volatility
Anything can happen next week. Flannery will lay out his plan and the markets will respond accordingly. I would not be surprised to see GE trade to $17.50 or rally to $24, or both. One thing is certain, everyone will have their opinion on where this one is heading.
I would encourage some type of hedging for those long either through some puts or covered calls.
JPMorgan (NYSE:JPM) analyst Stephen Tusa has been a bear lowering price targets on GE throughout the year. He recently put a $17 target on the stock in October which I believe is overdone.
Sometimes these big houses like JPMorgan and others will try to help create capitulation freaking out investors so they can buy up all the stock possible at a bargain.
These types of calls are worst case nightmare scenarios that would actually be the major buy zone. In short, if investors wake up and see a 15% down day in GE, they will know that it is time to back up the truck.
Positive Developments Being Ignored
The market is ignoring all the benefits that global growth, US tax cuts and rebuilding of the infrastructure will do to help GE's bottom line. This is an enormous company that is making a profit; this is not some pie-in-the-sky business. There are exciting things happening in our country right now, and I see GE having a tremendous benefit in the coming quarters and years from policies going into effect now. In short it's not all that bad.
Cost cutting will go a very long way to alleviating pressure on GE and the dividend. I personally don't care if the company cuts it 50% or not; I believe it is already priced in, and the stock will close significantly higher next week. That is why I have $150k of my own money invested.
One more 10-yr monthly chart for more perspective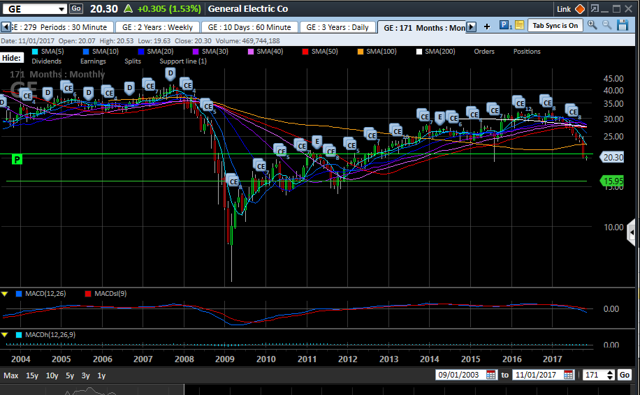 This monthly chart makes it a little easier to see why these lower price targets get set. It doesn't take a rocket scientist to see the flash crash low of $19.37 which could have been one erroneous trade that happened at 6.30 AM on August 24th.
Here is the deal, the US economy is far stronger than it was in 2011, there is a business-friendly White House and the future is looking very bright. This chart looks very scary, and frankly in some circumstances, I look for these opportunities to buy.
Conclusion
GE is in a precarious position with its stock price at six-year lows and the ability to pay the dividend is in question. Next week's conference call for investors will likely shed light on GE's future for growth and increasing cash flow through cost cutting.
I believe that any large drop will be bought by activist investors and deep pockets looking to make a long-term investment in a storied American company. The stock may have bottomed but we will have to see what happens next week.
I am long the stock and looking for a rally next week on cost cutting and the new path forward. I truly believe the stock has better days ahead and John Flannery has the knowledge, experience and deal-making ability to right the ship.
When the stock hits $24, all the analysts who have been buying in silent will come out of the woodwork and share their timely trades. I encourage investors to do their own research and always have an exit strategy in place before making any trade.
Disclosure: I am/we are long GE, GSK, LYG, CHK.
I wrote this article myself, and it expresses my own opinions. I am not receiving compensation for it (other than from Seeking Alpha). I have no business relationship with any company whose stock is mentioned in this article.
Related Posts: