The Canadian Trans Mountain Pipeline Expansion project has been put on hold. That was the gleeful projection of the opponents of this project run by the Canadian subsidiary of Kinder Morgan (KMI). Investors hope that this is an effective bargaining ploy that results in a successful conclusion.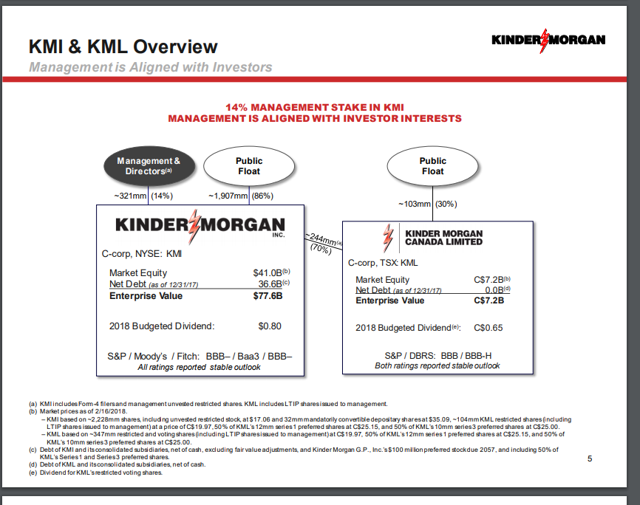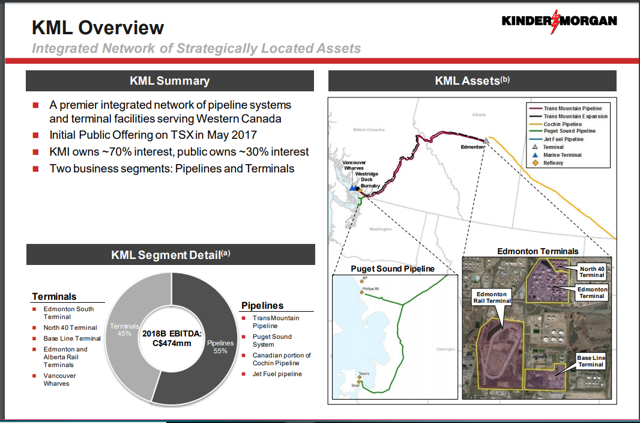 Source: Kinder Morgan Investor Presentation At Barclay's Investment Grade Energy and Pipeline Conference February 28, 2018
The TMP (Trans Mountain Pipeline Expansion Project) is a project undertaken by the Canadian subsidiary. That subsidiary, as shown above is a small part of the Kinder Morgan company. Nonetheless, the completion of TMP would be helpful to company earnings.
About $1 billion or so would be written off should the project be cancelled. This is a non-cash charge that represents costs spent over several years past. Once this decision is made, then the effects of the cancellation are over and done with. Kinder Morgan is large enough that this write-off is not all that damaging. Any financial repairs needed should be accomplished relatively quickly. Then Mr. Market looks forward to the future with a reconstituted backlog.
Up until the current time, the company has been planning and obtaining key permits for this pipeline expansion. The Alberta province would particularly benefit from this pipeline. Alberta has a substantial oil and gas industry that has endorsed this project. But the project is approaching a stage where the permit process should complete and construction should begin.
Management noted that the opposition of the British Columbia government is the cause of this action in the conference call. This government has called for new actions to oppose this pipeline. These proposed actions raise the risk of project completion as well as potential cost increases, and project delays. Kinder Morgan management does not feel comfortable committing more shareholder dollars to the project under the current conditions.
Management noted that a May 31 deadline has been established to finally determine whether the project should be terminated. This is probably good negotiating tactics. Management could use some allies to help resolve the issues facing the company. Canada definitely needs more pipelines. How this is resolved could determine the willingness of investors to build future pipelines in the country. Kinder Morgan management clearly needs clarity and to some extent project certainty. Now it is up to Canada to provide what is needed to make this project viable in the current Canadian political atmosphere.
Prime Minister Trudeau senses the urgency of the situation. He canceled another trip to meet with the prime ministers of the two primary provinces to try to agree to a solution. As Prime Minister Trudeau noted, he would not agree to a project that wrecks prime British Columbia property and scenery. The heart of the dispute is the definition of a reasonable solution. Many times reasonable needs to be defined as profitably achievable with proper safeguards in place. Absolutely 100% certain with no possibility for error cannot be the reasonable solution many times. That may disappoint activists but it is a necessary, if disappointing facts. Many of the most spectacular disasters and spills would not have happened if the regulations in place were followed. Others could have been prevented by reasonable and timely updates. But nothing is ever perfect.
Another very important point concerns Kinder Morgan business strategy. Management cannot allow its projects to be held hostage to political whims. Shareholders expect their money to be spent as judiciously as possible. British Columbia government has clearly raised the stakes to the point where spending more money was not wise. Some activity will continue which is a good faith show on the part of the company. But the amount spent so far on the TMP project will not materially increase without the necessary clarity and permits. The Canadian federal government has clearly supported the project. Now that support needs to translate into action.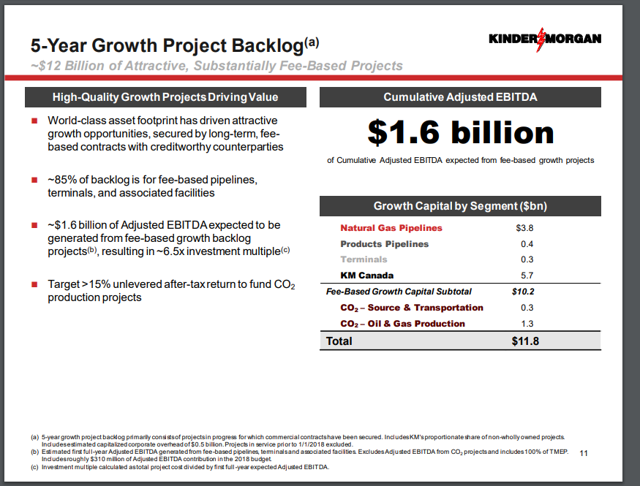 Source: Kinder Morgan Investor Presentation At Barclay's Investment Grade Energy and Pipeline Conference February 28, 2018
Kinder Morgan clearly has other growth projects. If that KM Canada amount is not spent on the TMP, then other projects will take the place of that project both in Canada and elsewhere. Kinder Morgan has noted that they have already (through Kinder Morgan Canada) invested in British Columbia. If TMP is not the right project, then other projects may be acceptable to the British Columbia government.
In the United States, intrastate projects often begin and end in far less time. Management always has proposed projects not in the backlog that can be added any time funds become available if they pass profitability guidelines. Kinder Morgan has access to most major plays in the United States either directly or with a joint venture partner.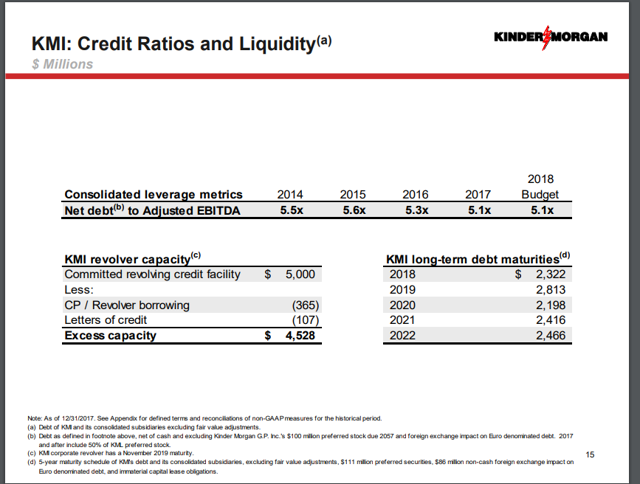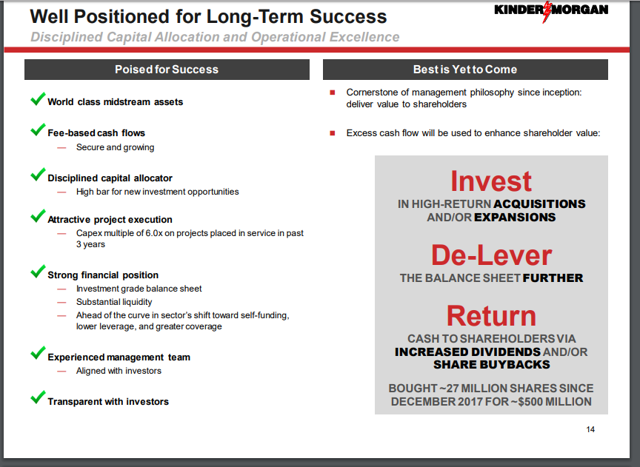 Source: Kinder Morgan Investor Presentation At Barclay's Investment Grade Energy and Pipeline Conference February 28, 2018
Kinder Morgan has decent debt ratings and an adequate credit line. Good solid goals are in place. The TMP project in Canada has stolen the company headlines for some time. But this company will thrive and grow regardless of the outcome of the project. The Canadian subsidiary will also prove to be a viable company without or with the TMP expansion project.
In the meantime, the suspension of non-essential spending was a good move on the part of the company to solidify the prospects of the project. Management needs reasonable certainty to go forward with the project. At the same time British Columbia needs to set reasonable and achievable conditions to ensure safety (or allay safety concerns). Canada needs to figure out how badly the country needs this project and what the federal government is both willing and able to do to aid the completion of the project.
In the meantime, investors should expect a lot of headlines. Those headlines will be followed by a lot of finger pointing. Politics can be very messy. But careful planning should ensure most needs are met while making a reasonable profit. This was not a blink so much as careful planning at its best. Now let us see if reasonable thoughtfulness and "big picture" thinking will prevail.
In the meantime, Kinder Morgan has enough excellent prospects that this stock should more than double over the next 5 years from the current price level. As shown above, debt ratios have clearly declined. The distribution now appears to be on the recovery track. Sooner or later the market will discover that Kinder Morgan is growing again. An occasional accretive acquisition would also fit the history of this company. At these levels, the stock appears to be a clear bargain.
Disclaimer: I am not an investment advisor, and this article is not meant to be a recommendation of the purchase or sale of stock. Investors are advised to review all company documents and press releases to see if the company fits their own investment qualifications.
I analyze oil and gas companies like Kinder Morgan and related companies in my service, Oil & Gas Value Research, where I look for undervalued names in the oil and gas space. I break down everything you need to know about these companies — the balance sheet, competitive position and development prospects. This article is an example of what I do. But for Oil & Gas Value Research members, they get it first and they get analysis on some companies that is not published on the free site. Interested? Sign up here for a free two-week trial.
Disclosure: I am/we are long KMI.
I wrote this article myself, and it expresses my own opinions. I am not receiving compensation for it (other than from Seeking Alpha). I have no business relationship with any company whose stock is mentioned in this article.
Related Posts: