The information in this article discussing Goldman Sachs BDC (GSBD) was previously made available to subscribers of Sustainable Dividends, along with target prices and buying points, real-time changes to my personal BDC positions, updated rankings and risk profile, real-time announcement of changes to dividend coverage and worst-case scenarios and suggested BDC portfolio.
Does Lower Yield = Lower Risk?
Typically, lower yield implies lower risk, but this is not always the case, especially when it comes to business development companies ("BDCs"). Listed below are the BDCs with yields below 9% after taking into account semiannual and special dividends for Main Street Capital (MAIN), Gladstone Investment (GAIN) and TPG Specialty Lending (TSLX).
Oaktree Specialty Lending (OCSL) and Oaktree Strategic Income (OCSI) have recently been taken over by Oaktree Capital (OAK), and there is a good chance that OCSL will cut its dividend in 2018 due to the reduced hurdle rate with the new management agreement as discussed in "Oaktree Management Fees Driving Upcoming Dividend Cuts".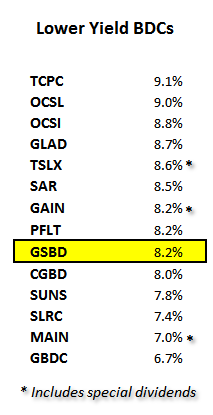 Source: BDC Buzz
Previous articles on lower yield BDCs: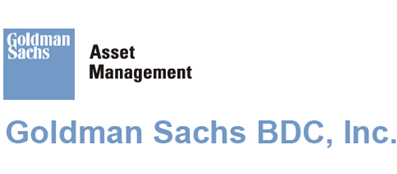 Quotes from management: All quotes from management in this article can be found at "GSBD Transcripts" on SA.
Dividend Coverage Update
GSBD reported results (for the quarter ended September 30, 2017) earlier this week between my base- and best-case projections covering its dividend by 105%.

Source: GSBD September 30, 2017, Investor Presentation
The overall portfolio yield decreased to 10.3% on portfolio cost (compared to 10.8% the previous quarter) primarily due to placing its investment in Bolttech Mannings on non-accrual status (discussed next).
Is Senior Credit Fund ("SCF") currently has a 12.7% return on investment compared to 14.2% the previous quarter. The overall size of the SCF portfolio declined by about 6.1% but continues to be the company's largest investment at 8.1% of total investments at fair value.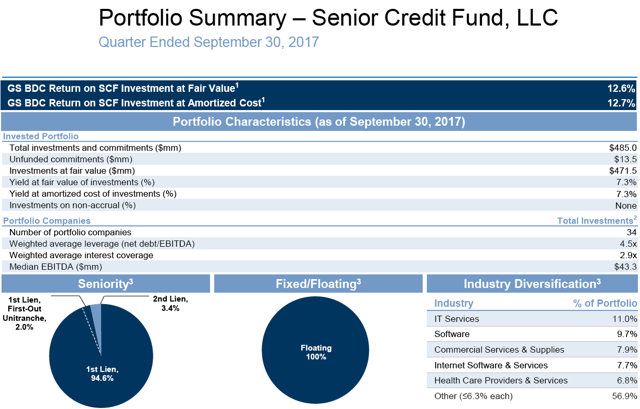 Source: GSBD September 30, 2017, Investor Presentation
Risk Profile Update
Non-accruals increased to 1.5% and 3.4% of the portfolio fair value and cost, respectively (previously 0.2% and 0.7%), due to Bolttech Mannings, Inc. being added to non-accrual status with a cost and fair value of $40 million and $17 million, respectively. This investment was discussed on the recent call:
"We did place our investment in Bolttech Mannings on non-accrual during the quarter. As you'll recall, you'll recall this is an investment we have discussed extensively on prior conference calls as we have previously [marked] lower in the face of the company's underperformance. Bolttech provides maintenance and other services to a variety of industries including petrochemical, refinery and power producers. And the company's underperformance has been driven by a softer market environment, particularly for its Canadian operations. At this juncture, based on the current facts and circumstances, we have decided to place this investment on non-accrual and work toward restructuring in the near future. We are currently actively engaged with the company and its sponsor on this initiative and are highly focused on preserving value for our investment. At the end of the quarter, we have Bolttech marked at [$17 million] and represents 1.5% of the portfolio at fair value."
Previously, GSBD's position in Bolttech had been amortized down giving it voting control and recently invested a small amount of additional support capital. Management discussed Bolttech on the previous call and did not expect "any change to the status in the near term" which might have been optimistic.
From previous quarter: "One other investment to note is our loan to Bolttech Mannings, which we marked down by 10 points this quarter, resulting in a $4.2 million of unrealized loss. During the quarter, with the benefit of new capital provided by us and the active sponsor, the company showed progress on new initiatives, resulting in modest revenue gains. However, EBITDA margins remained under pressure, and well below historical averages. Bolttech continues to remain current on its cash interest and principal obligations, we don't anticipate any change to that status in the near term."
Previously, Kawa Solar Holdings Limited was on non-accrual but mostly written off during the recent quarter.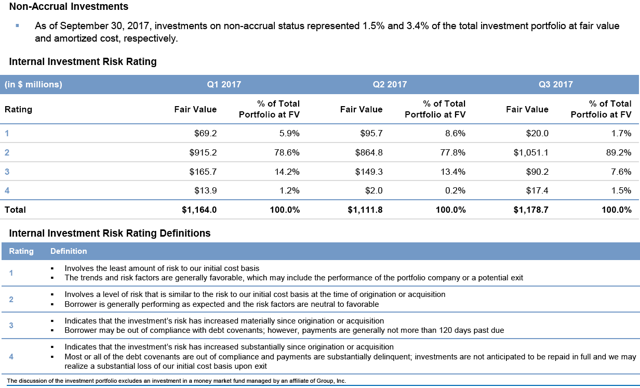 Source: GSBD September 30, 2017, Investor Presentation
The portfolio remains heavily invested in first-lien debt including its SCF as shown below:

Source: GSBD September 30, 2017, Investor Presentation
As you can see below, NAV per share was stable due to over-earning the dividend offset by changes in unrealized/realized depreciation.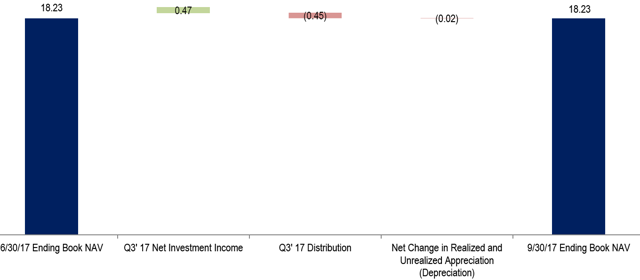 Source: GSBD September 30, 2017, Investor Presentation
Quality of Management & Fee Agreement
I consider GSBD to have a higher quality management for many reasons including independent Board of Directors, the previously discussed income incentive fees that take into account capital losses, including Bolttech Mannings, NTS Communications, Hunter Defense Technologies, Inc. and Washington Inventory Service during the previous quarters, its 10b5-1 purchase plan that automatically purchases shares under NAV of up to $25 million that uses GS capital to purchase up to 19.9% (see below). Additionally, there is a $35 million share repurchase program, at prices below NAV, once the 10b5-1 plan is exhausted. GSBD has conservative accounting policies including amortization of fee income rather than taken upfront (onetime lumpy results) as well as very little PIK (non-cash, less than 1%). The Board of Directors recently renewed the company's stock repurchase plan to extend the expiration from March 18, 2017, to March 18, 2018, to repurchase up to $25 million of its common stock if the market price falls below its NAV per share.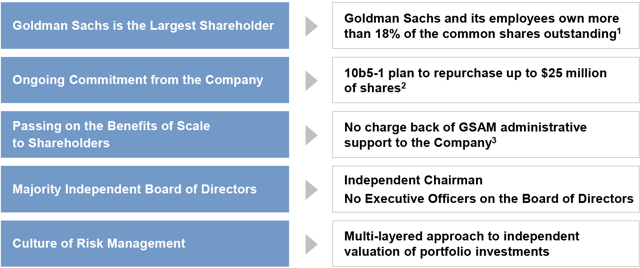 Additional Upcoming Earnings Announcements
As mentioned in "Q3 2017 Earnings Season Preview For BDCs," BDCs have begun reporting calendar Q3 2017. Please subscribe to Sustainable Dividends if you would like updates on the following as each company reports:
Target prices and buying points.
Real-time changes to my personal BDC positions.
Updated rankings and risk profile.
Real-time announcement of changes to dividend coverage and worst-case scenarios.
BDC portfolios.
"A" denotes after the market closes, "B" is for before the markets open, and "Est" is estimated reporting date.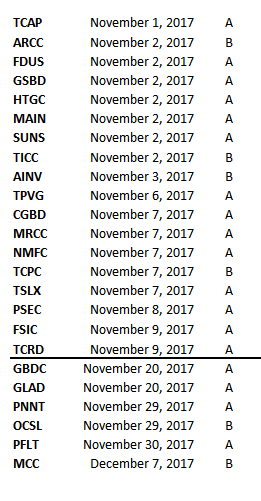 Disclosure: I am/we are long GSBD.
I wrote this article myself, and it expresses my own opinions. I am not receiving compensation for it (other than from Seeking Alpha). I have no business relationship with any company whose stock is mentioned in this article.
Related Posts: