Lundin Mining (OTCPK:LUNMF) and Euro Sun Mining (OTCPK:CPNFF) don't give up. Although Nevsun's (NSU) management has rejected their previous takeover offers, they are still looking how to get to Nevsun's assets. Especially to the world-class Timok project.
The whole story has started back in March 2016, when Lundin Mining made a deal with Freeport-McMoRan (FCX) to acquire 100% of Freeport's interest in the Timok Upper Zone and 28% of Freeport's interest in the Timok Lower Zone. However, Reservoir Minerals (OTCPK:RVRLF) (the former co-owner of the Timok Project) used its right of first offer. It made a deal with Nevsun. Nevsun helped Reservoir to acquire the abovementioned stakes from Freeport and subsequently, Reservoir got acquired by Nevsun.
Less than two years after the first one, Lundin made another attempt to acquire Timok. It presented several offers to Nevsun, however, Lundin was interested only in the European assets. All of the offers were rejected by Nevsun's management. This is why Lundin partnered with Euro Sun that is interested in Nevsun's remaining assets, i.e. the Eritrean Bisha mine. Together, they made another offer that valued the whole Nevsun at C$1.5billion. They offered C$5 per Nevsun's share (C$2 in cash, C$2 in Lundin's shares, and C$1 in Euro Sun's shares). This offer was presented on April 30 and rejected on May 7. After the latest rejection, Lundin and Euro Sun published their offer and also provided some information about the former offers. The decision to make the offer public indicated that the story is far from over and the two companies will make further attempts.
The newest attempt came this week when Euro Sun announced that it has amended its portion of the proposal from C$300 million in shares to C$150 million in shares and C$150 million in cash. However, this amendment doesn't change too much. It still values Nevsun only at C$1.5 billion. At the current exchange rate, it equals to $1.15 billion or $3.84 per share (~$1.54 in Lundin shares, $0.38 in Euro Sun shares, and $1.92 in cash). It is less than 15% above the current Nevsun's share price of $3.35.
What is worrying, according to Euro Sun:
Since making the proposal public on May 7th, 2018 numerous meetings have been held with shareholders of Nevsun, both in person and via teleconference. To date shareholders representing over 30% of Nevsun shares outstanding have expressed support for the Euro Sun led offer and encourage all parties to actively engage in a friendly transaction.
Moreover, according to a recent Reuters article, M&G Investment Management (Nevsun's second-biggest shareholder) stated that it is positively inclined towards the C$1.5 billion offer. And Adrian Day Asset Management, another institutional investor, stated:
We would urge the company to use all efforts to maximize value for shareholders… even if it does mean breaking up the company.
As Nevsun is 70%-owned by the institutional investors, there is a real danger that the current offer will be pushed through in the end. The retail investors can only hope that the offer will be somehow sweetened.
The after-tax NPV (8%) of the Upper Zone alone is $1.8 billion, according to the PFS. The project is well advanced, the feasibility study is expected in Q1 2019, and the construction of the decline has already started. Moreover, Nevsun is evaluating a development option that could help to cut the development CAPEX by approximately $100 million. It is also important to note that Nevsun's management has repeatedly stated that there is a meaningful potential to discover more Upper Zone-like deposits. One of the targets has been drilled successfully and the results are very promising. The intersections include 2.93% copper and 2.54 g/t gold over 27 meters or 3.91% copper and 1.61 g/t gold over 7.5 meters. According to the company:
Drilling has intersected new high-sulphidation epithermal ("HSE" or "Upper Zone-style") copper-gold mineralization 500 meters to the east of the Upper Zone deposit at Timok. Mineralization occurs over a 250 by 250 meter area which is similar in plan size to the Timok Upper Zone. The new zone of mineralization has similar characteristics to the Upper Zone with massive, semi-massive and disseminated mineralization.
It is important not to forget that also the Bisha mine has some value, especially after the Q1 results indicated that the metallurgy problems have been probably resolved. In fact, Euro Sun offers C$300 million (around $230 million) for Bisha.
And besides the other Serbian exploration-stage properties, there is also the Timok Lower Zone. Although the Lower Zone copper and gold grades are much lower compared to the Upper Zone, the Lower Zone is much bigger, as can be seen in the pictures below. The most exciting Lower Zone drill results include 0.92% copper and 0.22 g/t gold over 835.8 meters, 1.49% copper and 0.24 g/t gold over 204 meters, 0.8% copper and 0.22 g/t gold over 798.1 meters, or 1.08% copper and 0.27 g/t gold over 747.4 meters. The initial resource estimate is expected this summer. Its results are eagerly awaited by the investors as they should indicate a lot about the real value of the Lower Zone.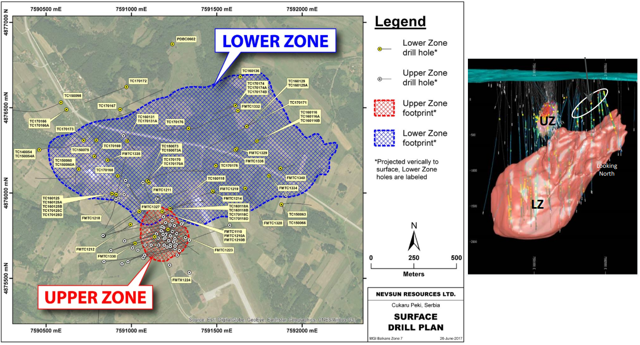 Source: Nevsun Resources
Conclusion
The current offer of approximately $1.15 billion is definitely not good enough. In my opinion, a fair offer should be somewhere in the $1.5-2 billion range, depending on the Lower Zone resource estimate. If the resource estimate is as good as expected, the offer should be closer to $2 billion. Nevsun's institutional shareholders probably know it as well, but the institutions often tend to prefer quick mediocre returns to waiting for the really big ones. Moreover, some of the institutional shareholders may have equity interests also in Lundin and Euro Sun which affects their decisions further. I expect that Lundin and Euro Sun will try to improve the offer slightly in order to close the deal before the Lower Zone resource estimate is released. And there is also a wildcard named Freeport-McMoRan. Freeport owns 39.6% of the Lower Zone, however, its stake will increase to 54% after the Upper Zone FS is completed. Given Freeport's issues with the Indonesian government regarding the Grasberg mine, it is reasonable to expect Freeport to seek some substitution. The acquisition of the Timok Upper Zone and the remainder of the Timok Lower Zone seems like a natural choice. Although Freeport has been silent by now, it may change quite quickly. There are various options on the table, and it's going to be really interesting to follow how the Nevsun-Timok story develops. Hopefully, it will be favorable for Nevsun's shareholders.
Disclosure: I am/we are long NSU.
I wrote this article myself, and it expresses my own opinions. I am not receiving compensation for it (other than from Seeking Alpha). I have no business relationship with any company whose stock is mentioned in this article.
Editor's Note: This article covers one or more stocks trading at less than $1 per share and/or with less than a $100 million market cap. Please be aware of the risks associated with these stocks.
Related Posts: