Real Estate Weekly Review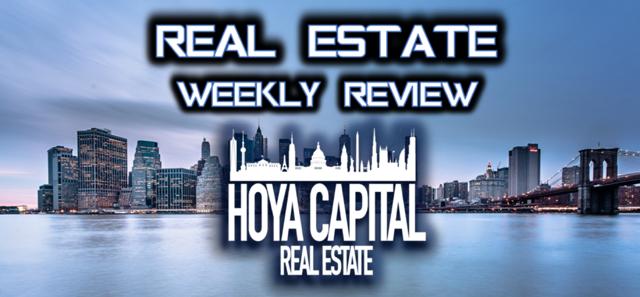 Volatility has been relentless since the start of 2018. In all of 2017, the S&P 500 closed the week with a 1.5%-plus move just two times, a feat that has been accomplished in twelve out of the fifteen weeks in 2018. This week, the S&P 500 (SPY) gained 2.0% as trade talks appear to be progressing with China while negotiations look to be active with NAFTA and the TPP.
Real estate equities have been among the top-performing sectors since the start of March, but the sector took a breather this week. Moderate economic and inflation data, combined with trade and geopolitical tensions, have kept interest rates below the recent high yields in February. The 10-Year yield climbed 5 basis points to 2.83%, still well below the recent highs of 2.94%. REITs (VNQ and IYR) finished the week lower by 0.5% while homebuilders (XHB) fell 2.2%.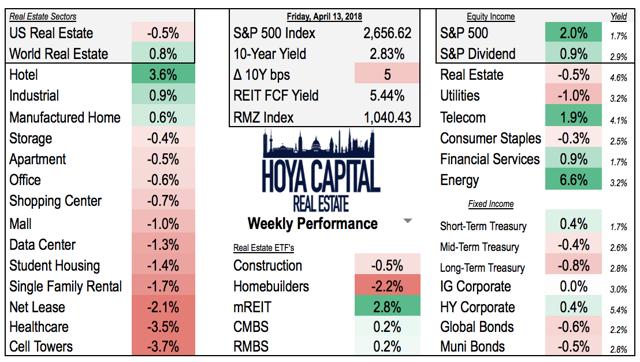 (Hoya Capital Real Estate, Performance as of 4pm Friday)
In other areas of the real estate sector, mortgage REITs (REM) finished the week nearly 3% higher while international real estate (VNQI) finished 1% higher. Within the Equity Income categories, we note the performance and current income yield of the Utilities, Telecom, Consumer Staples, Financials, and Energy. Within the Fixed Income categories, we look at Short-, Medium-, and Long-Term Treasuries, as well as Investment Grade and High Yield Corporates, Municipal Bonds, and Global Bonds.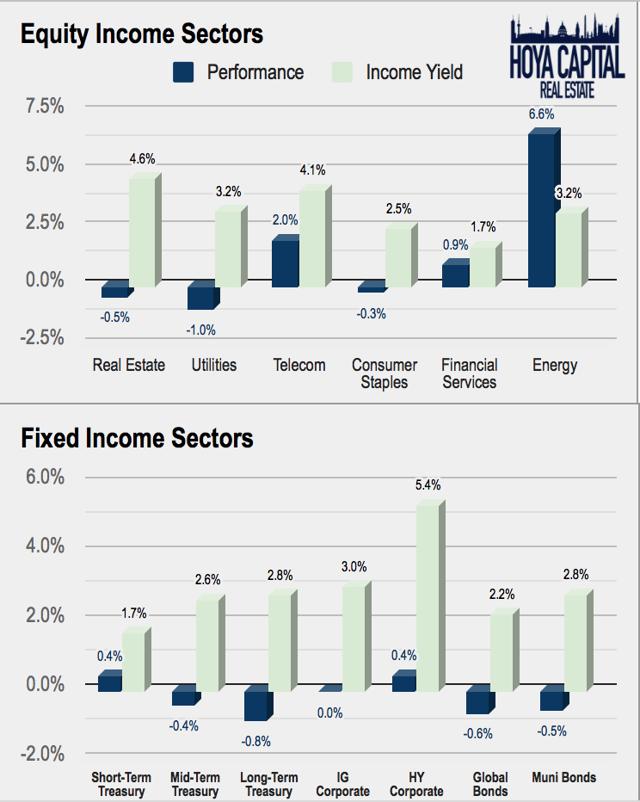 REITs in The News
Hotel REITs surged more than 3% this week after Pebblebrook (PEB) prematurely released its quarterly earnings. Results appear to be well above expectations as hotel demand remains strong. Host (HST), Park (PK), LaSalle (LHO), Sunstone (SHO), and Summit (INN) were among the best performers of the week.
Cell Tower REITs were among the worst performers after reports that Sprint (S) and T-Mobile (TMUS) are reengaging in merger talks. In previous reports, we discussed the potential impacts of the merger. In our Cell Tower report, we looked at the potential impacts of the proposed merger. American Tower (AMT), Crown Castle (CCI), and SBA Communications (SBAC) were among the worst-performing sectors.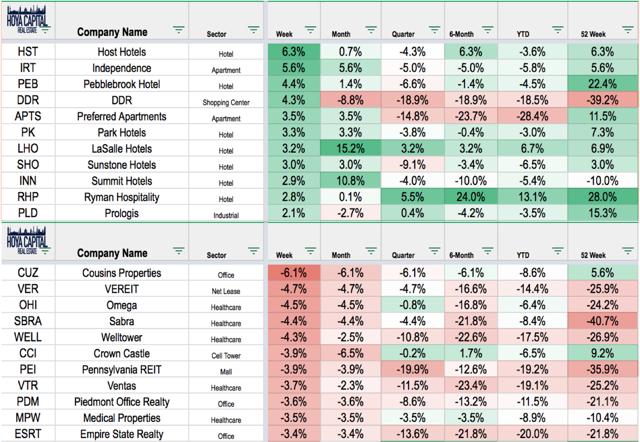 Also in focus this week was JBG Smith (JBGS) after a Bloomberg report detailing Third Avenue's bullish thesis on the firm. JBGS is geographically concentrated in the DC and Northern Virginia area, which is among the finalists for Amazon's (AMZN) H2Q. Third Avenue believes that the share price could rise from roughly $34 to above $40 per share if the region is chosen by Amazon.
Longer-Term Performance
REITs are now lower by 10% YTD, underperforming the 1% dip in the S&P 500. Homebuilders are off by nearly 11%. The 10-Year yield has climbed 42 basis points since the start of the year.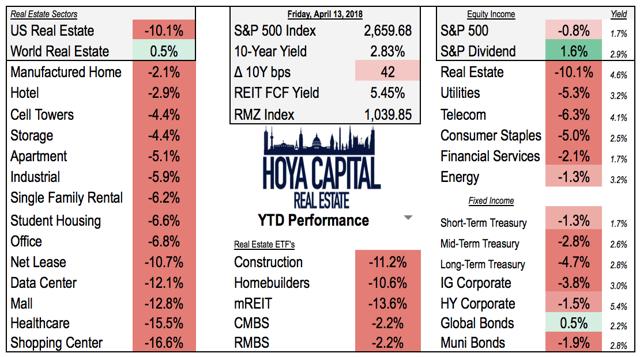 REITs ended 2017 with a total return of roughly 5%, lower than its 20-year average annual return of 12%. Going forward, absent continued cap-rate compression, it is reasonable to expect REITs to return an average of 6-8% per year with an annual standard deviation averaging 5-15%. This risk/return profile is roughly in line with large-cap US equities.

Real Estate Economic Data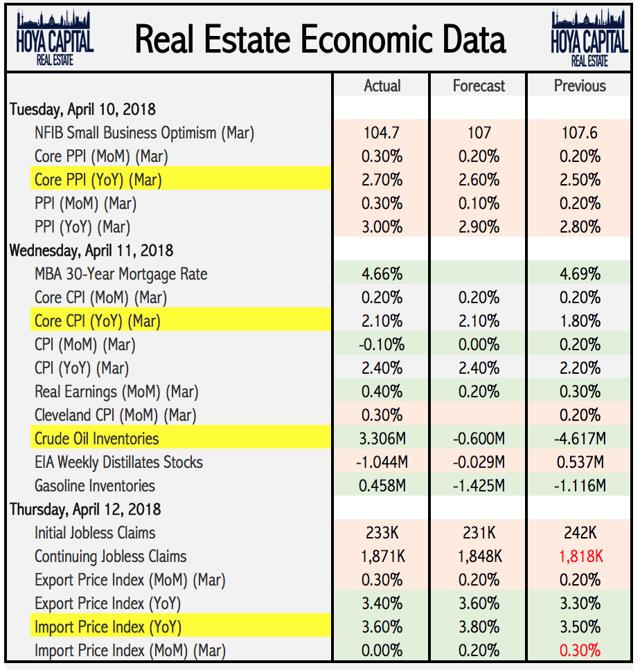 (Hoya Capital Real Estate, HousingWire)
Inflation Data Ticks Higher
Since the passage of tax reform in December, inflation has become a central focus for investors. There is mounting concern that we may be entering a new "economic regime" of faster growth and higher inflation, a departure from the "Goldilocks" environment of moderate growth and low inflation that was seen as favorable to asset valuations. The combination of lower tax rates and higher government spending will effectively serve as a fiscal stimulus that comes at a time when labor markets are already "tight" by many traditional metrics. Economic models would suggest that this policy course generally will result in upward inflationary pressure and higher wages. Higher inflation, in turn, would push interest rates higher and put downward pressure on bonds and income-oriented equity sectors including real estate.
For that reason, investors are now keenly focused on inflation data. February inflation data was broadly in line with expectations, but the combination of higher energy prices and base-rate effects in the data have pushed most inflation metrics to the highest levels since 2016. Core CPI rose above the 2% threshold for the first time since late 2016, rising 2.12% YoY. Core PPI rose to 2.69% while Core PCE (the Fed's "preferred" inflationary gauge) came in at 1.60% last week. Inflation expectations, as measured by the 5-Year, 5-Year Forward Inflation Expectation rate, peaked on February 2 at 2.35% and has retreated back down to 2.16%.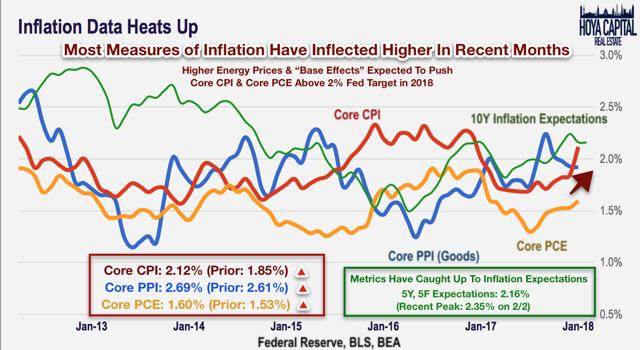 Shelter accounts for 34% of the CPI weight, and since 2013, it has been significantly above the overall inflation rate. From 2015 through late 2016, shelter inflation was the only component keeping Core CPI out of deflationary territory. Shelter inflation has trended down in recent months, a trend that we expect to continue, but bounced higher in March because of a jump in hotel prices.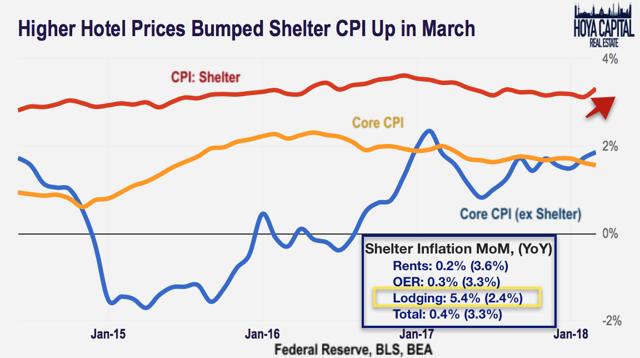 Our models suggest that CPI data tends to lag the current market conditions by 12-24 months, a function of the calculation methodology of the data series. As highlighted by the Zillow ZRI data above, private rent inflation data shows that national market rents are rising at a roughly 2% rate, far short of the 3.7% rate in the CPI data. This would suggest that as shelter inflation reverts to current conditions, it will serve as a significant drag on the overall inflation rate.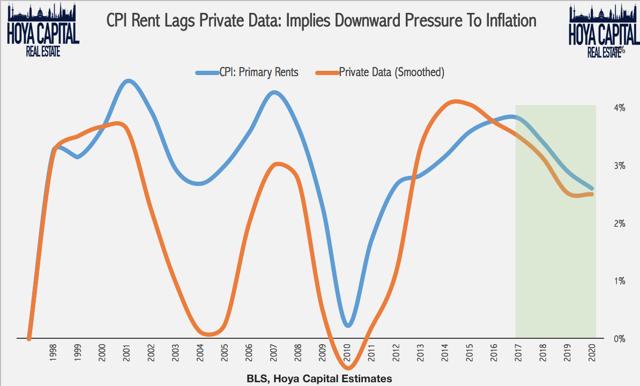 Surging Oil Prices Adding To Inflationary Pressure
Ultimately, we believe that the path of inflation will largely depend on two critical variables: the price of energy and the trade-weighted value of the US dollar. Even though Core CPI excludes energy, the price of gasoline and utilities typically flow through into Core components. Oil prices are higher by 27% YoY while gasoline prices are up 12%, both of which will contribute to upward inflationary pressure. Natural gas prices, however, have decreased 5% over last year.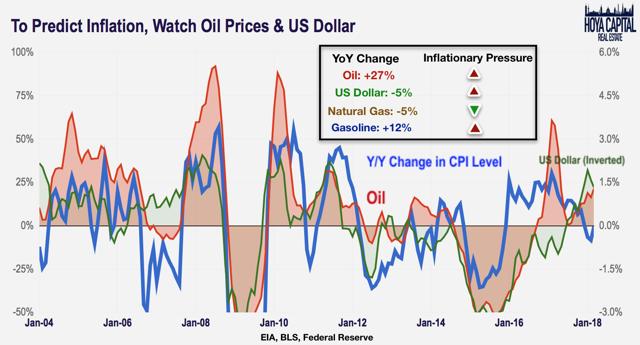 So long as REITs are being driven by interest rate movement, commodity prices become an important factor determining weekly price movements in the real estate sectors. REIT investors should be hoping for a moderation in oil and gasoline prices to the "Goldilocks" environment of solid growth and low inflationary pressure.
Bottom Line
On another volatile week in markets, US stocks rallied as trade tensions eased. Trade talks appear to be progressing with China after President Xi projected a conciliatory tone on negotiations. Real estate equities underperformed this week as rates ticked higher, but remain one of the top-performing sectors since the start of March. REITs fell 0.5% while homebuilders dipped 2.5%. Hotel REITs surged more than 3% this week after Pebblebrook prematurely released its quarterly earnings. Results appear to be well above expectations as hotel demand remains strong.
This week, we published Hotel Industry Booming, But REITs Didn't Get the Memo. Defying the headwinds of supply growth, 2017 was a stellar year for the hotel industry. Revenue per available room rose 3% and annual average occupancy reached a new record high. Hotel ownership, however, remains a tough business. While hotel operators are up 40% over the past year, hotel REITs are flat. As supply growth cools, REITs may finally join the rally. Supply growth continues to hang over the sector and is most acute in the business travel segments and urban markets. REITs hold a disproportionate amount of hotels in this segment.
We also published Shopping Centers: Sell Groceries Or You're In Trouble. Shopping Center REITs have had a rough couple of years. It's certainly not the "retail apocalypse," but there's no doubt that e-commerce remains an ongoing threat to at-risk retail categories. A sharp bifurcation has emerged within the shopping center sector. High-quality grocery-anchored REITs appear poised for continued growth while lower-quality power center REITs will continue to struggle.
So far, we have updated our REIT Rankings on the Shopping Center, Hotel, Office, Healthcare, Industrial, Single Family Rental, Cell Tower, Apartment, Net Lease, Data Center, Mall, Manufactured Housing, Student Housing, and Storage sectors. We will continue our updates over the next several weeks.
Please add your comments if you have additional insight or opinions. We encourage readers to follow our Seeking Alpha page (click "Follow" at the top) to continue to stay up to date on our REIT rankings, weekly recaps, and analysis on the real estate and income sectors.
Disclosure: I am/we are long VNQ, SPY, MAA, CPT, OHI, PLD, GGP, STOR, SHO, SUI, ELS, ACC, EDR, DLR, COR, REG, CUBE, PSA, EXR, BXP, EQR, INVH, SPG, HST, TCO, AMT, SBRA, AMZN.
I wrote this article myself, and it expresses my own opinions. I am not receiving compensation for it (other than from Seeking Alpha). I have no business relationship with any company whose stock is mentioned in this article.
Additional disclosure: All of our research is for educational purposes only, always provided free of charge exclusively on Seeking Alpha. Recommendations and commentary are purely theoretical and not intended as investment advice. Information presented is believed to be factual and up-to-date, but we do not guarantee its accuracy and it should not be regarded as a complete analysis of the subjects discussed. For investment advice, consult your financial advisor.
Related Posts: