Introduction
Tesla's (NASDAQ:TSLA) drive to sustainable profitability has passed through the "production hell" phase and is now in the "delivery hell" phase. Incumbent automakers have a much simpler delivery problem because they need to ship produced cars to a variety of local dealerships rather than a multitude of home addresses. This article will examine dealer networks, sales per dealer, and compare the delivery logistics of selling to a few hundred to a few thousand dealers versus the direct sales model that Tesla is using. We will also examine additional implications on sales to non-early adopters, as well as the future potential for "service hell" (once there are several hundred thousand cars in the hands of consumers).
Dealer Networks
The US is covered by close to 40,000 auto franchise establishments (see Figure 1).
Figure 1: Number of Auto Franchise Establishments in the US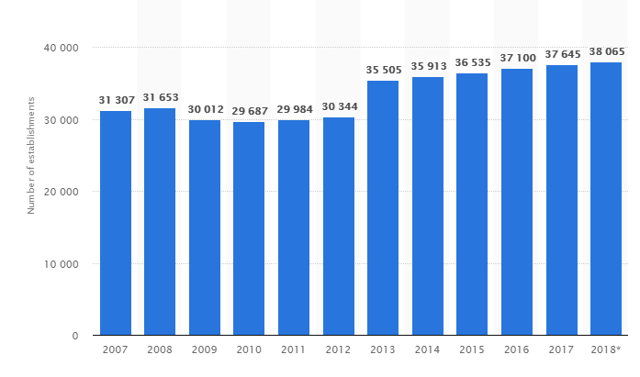 (Source: Franchise industry: automotive establishments U.S. 2018 | Statista)
These include dealers, repair shops, and parts shops. Many of these are multi-make shops, in that they sell, repair or service more than one make of car. Some services, like tire repair/replacement, body work, glass repair, battery replacement, etc., can be done without regard to the make of the car, while some others may require parts to be ordered from manufacturers or auto parts suppliers. If we focus on new car dealerships only, this number is known to be roughly 17,000 (Source: Fed Paper)
Figure 2 shows the density of auto dealerships around large and mid-sized cities in the US. In addition, many smaller cities and towns also have auto dealers.
Figure 2: Auto Dealership Density in the US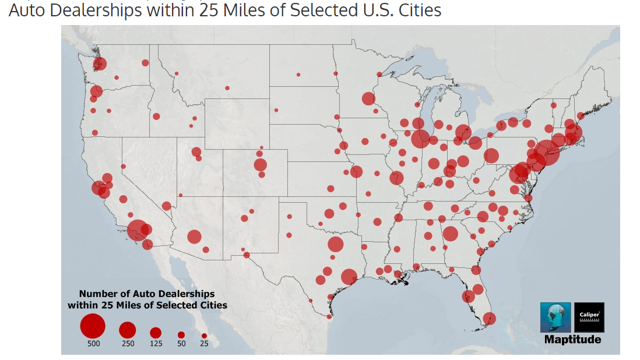 (Source: Map Link)
This geographical dispersion of dealerships serves two important functions for consumers:
1. Sales – Most consumers will not buy a car without a test drive and some amount of comparison shopping (possibly test-driving multiple makes and models). Auto dealerships are where you go for a test drive. In particular, if you live in a smaller city or town, the presence of a multi-make dealer would allow you to test drive a Volvo, Audi, VW or Subaru all by just walking a few hundred feet from one showroom to another within the same larger dealer facility.
2. Service – The presence of a diffuse dealer network also means that every city and many towns have a location where customers can go for in-warranty repairs, or after the warranty period if a repair requiring consultation with the manufacturer or parts supplier is needed.
On the auto producer side, this dealer network has advantages as well.
1. Inventory Management – Each dealer manages its local inventory. The car is sold (and booked) when it is delivered to the dealer. Costs of land, buildings, local advertising and inventory depreciation are passed onto the dealer network in exchange for the differential between price to dealer and retail price.
2. Delivery Logistics – Auto producers need to get their cars to a relatively smaller number of locations which have specialized on the local/consumer interaction side, including registration, sales tax payment, contract signature, signing of loan documents and insurance. This is considerably simpler than delivering cars to customers' doors, and much cheaper.
3. Sales Exposure – As mentioned on the customer side, the presence of multi-make dealers allows a producer's cars to be exposed to a much wider set of towns and smaller cities than having exclusive showrooms confined to a few large cities (due to economies of scale on the dealer side) would.
4. Service – Once cars are sold, dealers are only on the financial hook for warranty repairs. Other than that, they are completely out of the service business, and this keeps their organizations much simpler than having direct sales and service staff would. As with the sales side, service is also a multi-make function: if one day service staff have fewer Audis to repair, they can be moved over to Volvo. An experienced technician can easily work on 5-10 different makes and any model from that make.
Capital Requirements
Figure 3 shows that on average, dealers keep about 70 days of sales inventory.
Figure 3: Inventory Kept by Auto Dealers in Days Supply Units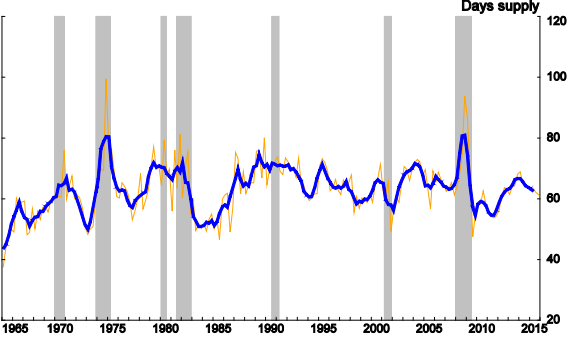 Figure 4: Vehicles Sold Annually per Dealership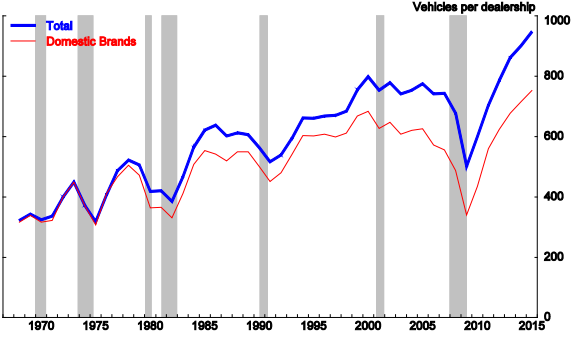 (Source: Fed Auto Inventory Paper)
Figure 4 shows that the average dealer is selling about 1000 units per year; combining 3 and 4, we can back out that they are keeping on average 192 cars in inventory, which is roughly $4.8 million of inventory. Adding in the average cost of land, buildings, working capital requirements for sales and service employees, we get a conservative estimate of $7 million per dealer. Therefore, across 17,000 dealers, the US dealer network is saving the auto industry the use of at least $119 billion in working (and other) capital in exchange for the dealer/retail price differential (essentially in perpetuity, subject to renewals). Indeed, the concept of a dealer network was invented by none other than Henry Ford in 1903 as he was trying to build up his car production and running into capital constraints (Source: Henry Ford Org).
The margin that the average dealer earns on new car sales is 1-2% (pre-tax profit margin), whereas service margins and used car sales are reported to be much better; the average dealer gets 44% of its profits from service and 26% from used car margins, with the balance coming from sales of financial products associated with new vehicle sales, such as extended warranties, lending products, etc. (Source: Edmunds).
So, in summary, almost all car producers have outsourced the sales and service function of their vehicles in exchange for the loss of the retail/dealer 1-2% margin. They incur none of the service costs nor revenue, and do not deal with the sale of affiliated financial products such as extended warranties or loans.
How About Tesla?
Figure 5 shows the locations of Tesla showrooms and service centers (red dots) in the southwestern US (for the full map, which does not show well in this article, please go to the source map using the link). Their geographic reach is quite limited at the current time, and outside of CA and FL, many states, such as Nevada and Arizona, have a single sales center (the emptier states have none). Even in a large-population state like NY, there is not a service center outside the NYC metro area.
Figure 5: Tesla Sales & Service Centers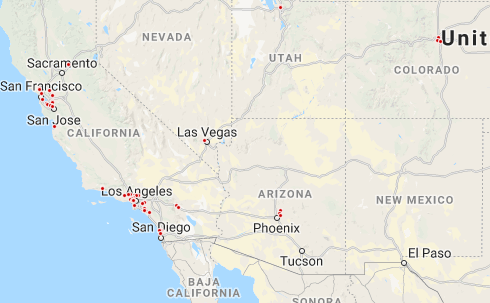 (Source: Find Us | Tesla)
While the ramp-up of Tesla sales to early adopters did not present a challenge (especially given the percentage of sales in CA) using this distribution model, the "delivery hell" that the company is now stuck in may be a function of not having leveraged the existing capital of the US dealership network in pursuit of a different business model.
While company data does not allow us to definitively back this out, it is highly probable, in my opinion, that the distribution, sales and service model Tesla has chosen constrain the size at which SG&A margin becomes sufficiently positive for the company as a whole to remain cash flow-positive and profitable. We reason as follows: instead of renting the existing infrastructure of the US dealership network (which could probably accommodate Tesla sales and service with small marginal capital expenditures, funded out of existing positive dealer cash flow), Tesla is in the process of trying to build a more efficient version of the same infrastructure (a capital-intensive process) in addition to the extensive capital required to build a new auto manufacturing process. Other auto car companies are relying on all their dealers to obtain loans from their local banks to carry inventory and build the retail side of the business. Tesla is trying to do both.
As we can see from comparing the map in Figure 5 to that in Figure 2, it is perhaps 25% of the way to having a sufficiently dense network of sales and service centers in order to become more than a small niche player selling to early adopters in top metro areas. Given the amount of capital (at least $120 billion) embedded in this network, assuming a 10% market share, this means Tesla would need to spend $12 billion in total on the sales/service infrastructure (not accounting for any hypothetical long-term differences in service costs of EVs versus legacy vehicles, for none of which data exists in reliable numbers) versus having let the existing dealer network finance these parts of the retail side of the business.
Investment Implications
Tesla has made it through production hell and reached a level of production approaching 5,000 cars weekly (Source: Company news release). Fundamental questions that remain include Q3 margins and whether Tesla can begin to produce lower-cost (35k) Model 3s at positive margins prior to demand for the higher-end (46k-75k) Model 3s all having been met. Additionally, even delivering all the higher-priced units requires them to manage through delivery hell (a shortage of car carriers is not the issue, not having infrastructure is). Furthermore, upcoming debt maturities require those high-end car margins to be sufficiently profitable (or an equity raise will be required). As Figures 7 and 8 show, neither annual nor quarterly margins (whether Gross, EBITDA, Operating or Pretax) show any obvious pattern thus far as a function of number of units produced.
Figure 7: Annual Margin Measures

Figure 8: Quarterly Margin Measures

(Source: Bloomberg)
I believe the dealer and service center network question has a direct bearing on how likely Tesla is to get to the point of 35k car profitability. We do not see a sufficient reduction in costs coming from materials (steel and aluminum), labor (minimal) or improvements in batteries (they eventually will fall, but this requires technological breakthroughs that take years, not months); in fact, the likely operational leverage would come from not needing to continue increasing spending on replicating dealer infrastructure via direct selling sites and service centers (whether mobile or stationary). This is a problem that a car producer that leverages the capital already invested in the extensive national dealer network likely would not be having.
It appears that Tesla has gotten itself into the position of juggling multiple balls while standing on a paddle board; now, hammerhead sharks are beginning to circle the paddle board (competition). The question that needs to be asked: Is selling direct to consumers an innovation to a long-tested process that has been subjected to 100 years of evolution on the battlefield but somehow been missed by all the other players that have struggled with profitability in a capital-intensive, cyclical industry? Or, is it a strategic blunder of the first order that will be seen to be Tesla's Achilles' heel when the history of the company is written? Tesla investors would be well advised to ponder this question.
Disclosure: I am/we are short TSLA.
I wrote this article myself, and it expresses my own opinions. I am not receiving compensation for it (other than from Seeking Alpha). I have no business relationship with any company whose stock is mentioned in this article.
Additional disclosure: We have both long and short positions in both stock and options which change regularly but are net short on a long-term basis.
Related Posts: