Uniti Group (UNIT) is a perfect example of how emotions always do the driving in the stock market.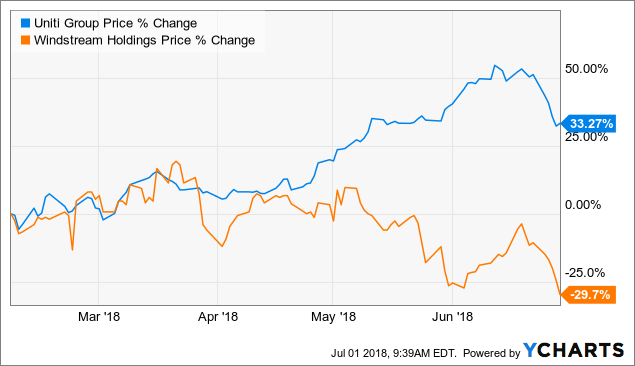 From its February low UNIT provided investors with a total return of over 50%, completely disassociating itself from Windstream Holdings Inc, (WIN). This was a rare feat as the two have in the past been joined at the hip with 65% of UNIT's revenues coming from the distressed WIN.
Why we had gone long
The crux of our logic was that the high short interest and bear raids in UNIT were misplaced and the worst case scenario had little chance of coming to fruition any time soon. That coupled with a decimated stock price and high options volatility allowed us to pick up shares on the ultra cheap. At the time we were confident about three things.
1) UNIT would not cut the dividend, as the numbers, in spite of others making claims to contrary, made zero sense. A cut would only worsen UNIT's problems without giving it any meaningful revenue diversification.
2) WIN would be to able stabilize its business in 2018 through a combination of cost cuts, acquisitions and strategic initiatives.
3) In the absence of an immediate catalyst, bears would be forced to cover, driving the stock close to a fair value of about 8-10X adjusted funds from operations, or somewhere in the $20-$25 range.
Why we exited and went short
UNIT's price did go parabolic in the May-June timeframe and seemed to show zero correlation to WIN. Our rationale for selling and then going short hence had to do with the stock approaching 9-10X AFFO in June. While the multiple was in the range of "fair value", we downgraded our view of what fair value was after looking at Q1-2018 results from WIN.
Here, our rationale was that WIN's revenue deterioration trend will reprice the market expectation for long term revenues to UNIT. WIN continues to lose customers and revenues in every department and contrary to management's optimism we see the glass as about two-thirds empty.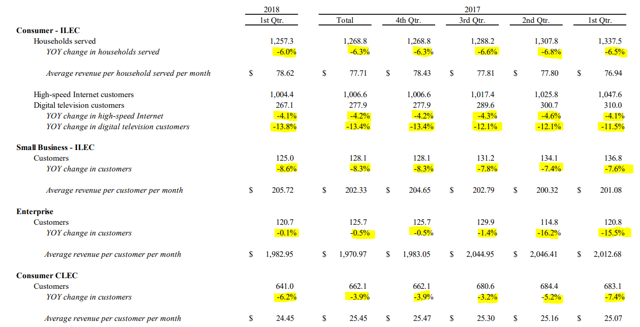 Source: Windstream Q1-2018 supplemental
While we have argued that even in a WIN bankruptcy a cut to UNIT's lease payments is unlikely, we think the odds of of a payment cut continue to rise with each dollar of revenue decline. Let us provide some color on that.
In 2014 & 2015, around the time of WIN's spinoff of UNIT, WIN produced $5.5 billion in revenues.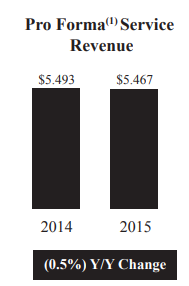 Source: Windstream 2015 10-K
Since then WIN has completed two acquisitions, Broadview Networks and Earthlink. These acquisitions totaled about $1.5 billion in annualized base revenues as can be seen here and here. WIN will also have spent a stunning $2.5 billion by the end of 2018 since then in capital expenditures. The guidance for 2018 is now for about $5.6 billion in revenues. So WIN's ex-acquisition base revenues will have declined by about $1.4 billion ($5.5+1.5-5.6) in the space of 3 years or close to 25%. This is in spite of $825 million in annual capital expenditures. At current trajectory this base revenue on which UNIT's network derives revenues will have declined by 40% by 2020. Yes WIN is taking steps to mitigate this and perhaps they will be successful, but there is now a material risk that UNIT's lease will be considered to be way above market coming 2020.
An introduction to game theory
Taking the above argument further let's consider what happens in a bankruptcy under one specific set of circumstances. Let's assume that WIN projects 2021 revenues to be 25% below that of 2018. On the surface this sounds as though it would be the WIN equity and bondholders problem and not present issues for UNIT. After all UNIT repeatedly boasts of 3X rent coverage from WIN. But look at the numbers this results in.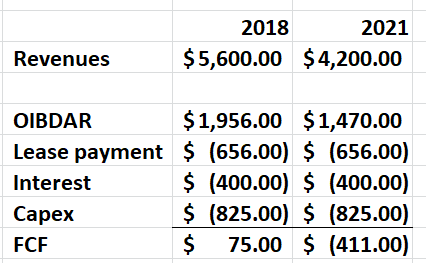 Source: Author's estimates and calculations
Using the same OIBDAR (Operating Income before depreciation, amortization and rent), free cash flow (NYSE:FCF) is a negative $411 million. Note that this means that WIN bondholders will not get no interest payments (let alone principal), if they accept the master lease payment as is. So a WIN bondholder should be indifferent to walking away from the UNIT lease as they get no money whether or not they accept the UNIT lease. Now, there is a neat little sleight of hand there in our numbers. We have assumed that the $825 million of capex is necessary to sustain the business. We don't know the exact numbers but WIN has spent over that on average for the past 3 years and has still lost business and customers. So we think that sustaining (and we use the word really loosely here) capex cannot be too far below that. If that is true, and if revenues decline by even 25%, UNIT is coming to negotiating table, regardless of what they say now.
Current position
We initiated our short position at $23.31 and covered at $19.75. We are still short using ratio spreads, where in we hold 1X long positions in the $20.00 puts and short positions in the 2X $17.50 puts.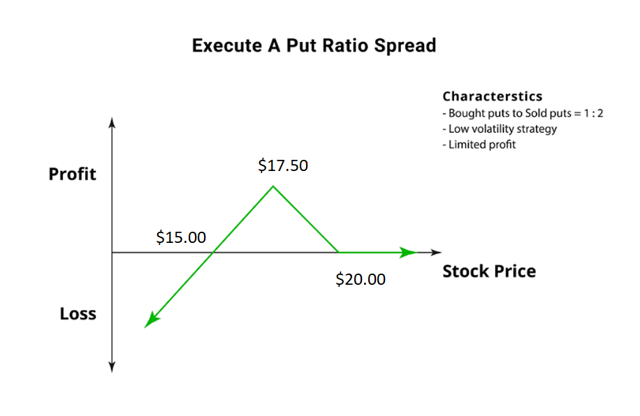 This was a credit spread trade and we feel this was the best way to continue to short the stock while not using any of our money. We maximize our profits if the stock is at $17.50 at expiration and we do become net long at $15.00. However the chance of that happening by August expiration is slim in our opinion and that is a level we would consider getting long in any case.
Conclusion
With rating agencies chasing UNIT and WIN, both stocks are vulnerable to even slight seizures in the capital markets. It is debatable whether UNIT deserves its extremely low credit rating from Moody's. The argument for such a move stems from UNIT's low interest coverage of 2.5X and non-Windstream revenues being not enough to even cover interest expenses.
The key factor continues to remain whether WIN is a terminal business or one that has a future. As a terminal business, we would put the worst case value of UNIT at about $15, extrapolating a 40%-50% rent cut in a bankruptcy. With WIN definitely having a future, we would put fair value at $25. Currently the jury is out on that one. In the interim our positioning allows us to either pick up shares at what we think is a worst case fair value with substantial upside and try and make money on more downside.
For more analysis such as this, alongside real-time alerts to sell insurance (puts) to panicked investors and lottery tickets (calls) to euphoric investors, please consider a subscription to our marketplace service Wheel Of Fortune.
About "Wheel Of Fortune"
Wheel of Fortune is a leading and comprehensive marketplace service, dedicated to picking the best risk-adjusted opportunities in stocks, bonds, ETFs, and CEFs. We look for securities from an income and capital appreciation standpoint and focus primarily on managing risk in trades. We use options frequently to minimize risk and enhance returns.
We invite readers to have a closer look at our investment strategy and our best current picks. For more information, click here.
Disclaimer: Please note that this is not financial advice. It may seem like it, sound like it, but surprisingly, it is not. Investors are expected to do their own due diligence and consult with a professional who knows their objectives and constraints.
If you enjoyed this article, please scroll up and click on the "Follow" button next to my name to not miss my future articles. If you did not like this article, please read it again, change your mind and then click on the "Follow" button next to my name to not miss my future articles.
Disclosure: I am/we are short UNIT.
I wrote this article myself, and it expresses my own opinions. I am not receiving compensation for it (other than from Seeking Alpha). I have no business relationship with any company whose stock is mentioned in this article.
Additional disclosure: Short position is through ratio spreads.
We are long 1X August $20 puts on UNIT.
We are short 2X August $17.5 puts on UNIT
Related Posts: