The best investments are oftentimes those that come with multiple ways to win. Shares of T-Mobile (TMUS) are now trading well below the levels they were prior to the announcement that they will try to get government approval for a Sprint merger (implying negative odds of approval), as well as at multi-year lows despite strong operating performance that exceeds the competition.
Below are four ways investors can win by buying TMUS today in the mid 50's:
1) On a standalone basis, TMUS is performing superbly
A few short years ago T-Mobile was uncool and sitting firmly in fourth place within the U.S. wireless sector. CEO John Legere has focused on attracting younger customers (where the growth is) and is willing to gamble on new sales and service initiatives to transform the sector. As a result, other competitors are forced to copy TMUS, on ideas such as including Netflix (NFLX) with service plans and scrapping data limits and contracts.
The results have been no less than staggering, with TMUS adding more net new postpaid customers in 2017 than Verizon (VZ), AT&T (T), and Sprint (S) combined: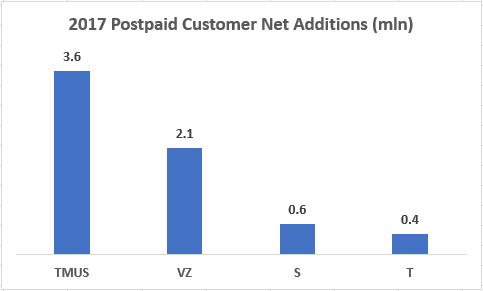 Source: Fourth quarter financial reports from each company
2) The stock's current valuation is around 11x 2019 free cash flow ex-Sprint
T-Mobile's success has not come with any compromise from the financial side of the equation (after all, it is easy to add customers when profits are not important). According to TMUS's annual 10-K filings, free cash flow has surged from $690 million in 2015 to $2.725 billion in 2017. On a per-share basis, the figures amount to a jump from $0.84 to $3.13. With high fixed costs, each new customer is incrementally very profitable.
TMUS has laid out guidance for 2019 free cash flow of $4.55 billion, or roughly $5.30 per share. That puts today's valuation at just 11x next year's free cash flow, a very low price for a company that is still adding new customers.
3) The company is using free cash flow to aggressively repurchase shares, which supports investors even if no merger with Sprint occurs
Despite a possible deal to buy Sprint, TMUS's board of directors authorized a $1.5 billion stock repurchase plan in December 2017. As of April 27, 2018, the company has spent the entire $1.5 billion on 23.7 million shares and announced a new authorization for another $7.5 billion through 2020. And that announcement was made knowing full well about the Sprint merger aspirations (only $500 million is slated for the rest of 2018).
4) A deal with Sprint could very well be approved and the potential synergies are impressive
It seems odd that T-Mobile shares are lower today than they were when the Sprint deal was announced. Not only does there appear to be a decent chance of getting approval (the arguments for the #3 and #4 wireless players teaming up to battle the two juggernauts in 5G technology are very strong), but it is hard to argue that T-Mobile has not done a lot to bring down prices in recent years. The idea that they would completely shift strategies after merging with Sprint holds little water. After all, T-Mobile's disruptive business model is working well and they are adding more customers than anyone else.
To give you an idea of how big the cost synergies are in this deal, consider that T-Mobile has announced a projected annual run-rate of $6 billion for the combined entity (on a net present value basis, they estimate $43 billion of synergies). Compared with T-Mobile's current stand-alone market value of $49 million, this deal would serve investors extremely well. If the deal happens, it is not unreasonable to think the stock could rise by 60% ($43 billion of synergies layered onto the combined current equity values of both firms of $68 billion) to a level of $90 per share within 2-3 years post-closing. That price would equate to roughly 13 times a $7 per share free cash flow figure (and that $7 could be low given TMUS should surpass $5 on their own next year).
In summary, investors can win with TMUS regardless of whether the coin lands on heads or tails. On a standalone basis, TMUS should continue to take market share, boost free cash flow, and buy back stock. In baseball terms, that is probably a double. However, if the government decides they would not mind three companies of roughly equal size vying for 5G dominance, the Sprint deal could very well happen (no reason to think 25% odds are unreasonable, although I think it might be as high as 50/50). If that happens, TMUS should be a home run for shareholders and customers alike.
Disclosure: I am/we are long TMUS.
I wrote this article myself, and it expresses my own opinions. I am not receiving compensation for it (other than from Seeking Alpha). I have no business relationship with any company whose stock is mentioned in this article.
Related Posts: